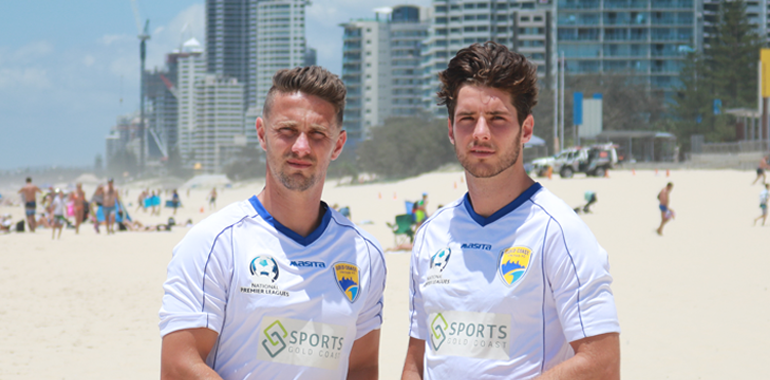 Gold Coast United FC launch playing kit
On Friday night new NPLQ club Gold Coast United officially unveiled their playing kit which embraces their heritage, but also confirms a fresh start for elite football in the region.
United's elite teams will wear all white – a first for top tier football in Australia. Their alternate kit will be yellow jersey, blue shorts and blue socks, which acknowledges the club's history.
More than 300 players received their 'wardrobe' at United's official kit launch on Friday night at the QT Gold Coast, Surfers Paradise.
"This is a very exciting occasion for the club," said United's CEO Troy Bingham.
"It's a fantastic time, especially for the younger players who receive an array of clothing including their playing strip, the alternate kit, training gear and a track suit.
"And then this weekend all of our teams will be wearing their new gear at our first pre-season games.
"This marks a significant milestone for GC United. We have moved from an embryonic idea to players on the pitch in sixth months.
"It is a dream come true. But it is also a dream based on hard work and a club bedrock that embraces the entire Gold Coast football community and is financially secure."
Bingham said United had opted for an all-white playing strip because it is 'unique and fresh'.
"I don't know of any other Australian NPL or A-League club that has all-white as their main playing kit," he said.
"In fact internationally the only club I can think of with similar is Real Madrid.
"This is aspirational. We certainly wanted to make a statement that we are a unique club. We are structured specifically to be a pathway for footballers – male and female – to be the best they can be. To be able to reach the elite level.
"We are also structured specifically to include every player on the Gold Coast who has a dream to play football at the elite level."
Bingham said the alternate club colours – yellow and blue – was in respect of the club's heritage. From 2009 to 2012 Gold Coast United played three seasons in the national A-League competition.
Although now under a completely different ownership and club model, Bingham said it was important for the club to acknowledge it's past.
"The United name was once in the top tier of football in this country. We plan to be there again," he said.
"There are a lot of football fans here who believe the Gold Coast should be in the A-League. We are setting up a structure to ensure that will happen."
Bingham said the club's colour palette was a clear indication of positioning within the club:
White – NPLQ players
Yellow and blue – development squads (also the alternate kit for NPLQ players)
All blue – United's community program (camps, schools, etc).
Bingham said the Friday night launch was also a chance for the club to spotlight the club's clothing sponsors:
Boys' and men's teams: Sports Gold Coast
Girls' and women's teams: Bond University
Skill Acquisition Program (SAP): Bruce Lynton Jaguar Land Rover
Community programs: Chempro