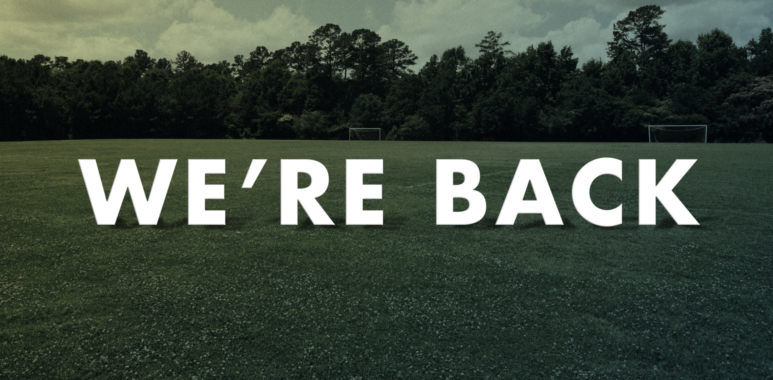 Gold Coast United is Back.
Gold Coast United is back.
The club that headlined the Gold Coast's emergence into soccer's A-League almost a decade ago, will be reintroduced as the city's new PlayStation 4 National Premier Leagues (NPL) Queensland team.
In a massive vote of confidence in the region's soccer future Football Queensland has issued an NPL licence to Gold Coast United FC.
Gold Coast United has been resurrected by business group Sports Gold Coast merging new clubs Gold Coast Athletic and Gold Coast Galaxy in the process. Both these start-up franchises were recently handed licences in the new state-wide, second-tier FQPL competition, which will now be handed back.
In a major coup for the game locally the merged entity was able to convince Football Queensland to replace the two FQPL licences with a single ticket into the NPL under a structure where every club on the Gold Coast has membership in United.
"Football Queensland deserve plenty of credit for acknowledging just how powerful the proposal was and for breathing new life in to Gold Coast football," said United chairman Danny Maher. "It's a once in a football generation opportunity.
"We are proud to bring United back in a community-driven model and unite the sport on the Gold Coast. Our primary purpose is to provide access to elite pathways for every Gold Coast grassroots club and for every, man, woman, boy and girl. That is why we are here, to unite the city.
"The merger between Athletic and Galaxy as part of this process is a powerful message to all of the Gold Coast. United we can achieve amazing things.
"In the next few months we will roll out our plans and key announcements making United a serious force in Australian football. Our focus is to be a brand that is owned by the entire city and our aim is to be successful, very successful. Every club at the Gold Coast is a member of United under our constitution. With the prospect of the NPL being joined with the A-League in a promotion relegation system at any time we need to be successful immediately and we have to be grassroots led."
Mr Maher emphasised the off-field structure of Gold Coast United was the key to its future.
"We have a board and management structure that is unique to sport on the Gold Coast," he said.
"We have created an environment that includes some of the best business and football brains from across the nation. These are people who have a proven track record in the boardroom and on the pitch."
Former Gold Coast Galaxy chairman and now United board member, Mark Anderson, said United would boast both male and female NPL teams.
"We have been granted both men's and women's NPL licences," he said.
"Under our banner any Gold Coast player can be a part of the elite pathway. To have both licences is exciting – we are the only club on the Gold Coast to offer this – and we are extremely committed to equal access to elite pathways for male and female programs within this franchise."
Gold Coast United is backed by Sports Gold Coast – a not-for-profit organisation whose sole driver is to bring together government, sport and corporate Gold Coast for the betterment of local sport.
Sports Gold Coast chairman Geoff Smith said United was conceived over two years ago.
"When you look at ways to enhance the sporting landscape of this city there is no better place to start than with soccer – one of the most popular sports in the region," he said.
"But Sports Gold Coast's emphasis will always be on a whole-of-city approach and a meticulous adherence to good corporate governance. With that ethos in place we have been able to attract powerful allies both in business and government.
"The rebirth of Gold Coast United is a classic example of sport, business and government working together."
Incoming Gold Coast United CEO, Troy Bingham, said the club would be making a number of major announcements over the next few weeks.
"We have just been handed an NPL licence and already there are lots of things in place, but there is also a lot to do in a short time-frame," he said.
"We are well down the road as far as sponsorship, a playing venue and we have an amazing elite level academy to roll out. The club will be making detailed announcements almost immediately in relation to these, but today is about announcing that Gold Coast United is back as a force in Australian football and with an NPL licence.
"We want to emphasise that this club is here for all of the Gold Coast. One of the first announcements we will be making will be around player costs and the structure we have in place that will ensure that cost will never be a barrier to a local player joining the elite football pathway."
Gold Coast City Councillor Bob La Castra, a staunch advocate of local soccer welcomed the announcement.
"I'm thrilled to see Gold Coast United back and a new NPL license in the city. It's a great boost for football at elite and grassroots level and a great boost for the economy," Cr La Castra said.