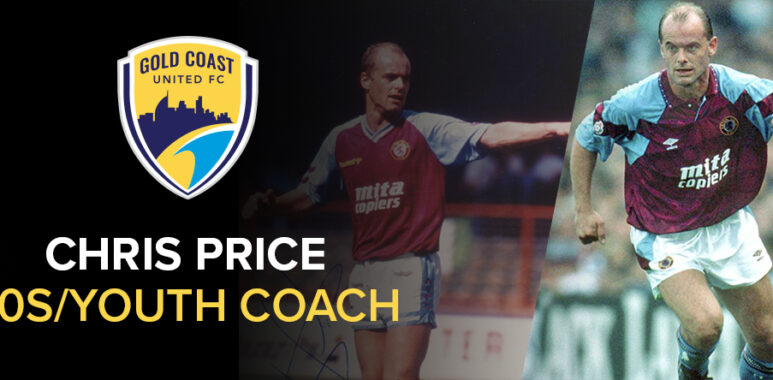 Gold Coast United FC announce Chris Price as Under 20s/Youth Coach
A FRIENDSHIP tracing back almost 50 years has resulted in former English top division footballer Chris Price returning to the game as Gold Coast United's Under 20s/Youth Coach for their inaugural season in 2018.
Price has not been involved in soccer since coming to Australia in 2007, however that changed with a recent phone call from United's men's head coach Sean Lane.
"I have known Chris for most of my life," Lane explains. "We played with and against each other as boys at club and school level in England.
"Recently I rang him to see if he would be interested in the role at United and was extremely delighted when he said 'Yes'."
Price played more than 700 games for a variety of English clubs including Hereford United, Blackburn Rovers and Aston Villa, in a professional career that spanned from 1977 through until 1994.
Since then he has had coaching roles in England, Spain and the USA.
Price said work commitments had halted any chance of becoming involved in soccer since coming to the Gold Coast a decade ago.
"I have not been able to commit myself to any coaching positions because of work reasons," the 57-year-old said.
"I am a big believer in that if you are going to do a job, then you have to do it properly. It's not worth doing things half-hearted. I was offered a few things (in football), but had to decline.
"However, circumstances are different now. So when Sean asked me about the United role I said 'Of course I will'."
Price said he was excited, even a 'little nervous' about getting back into the game.
"I am very excited by it," he said. "I have been involved with some of the best coaches in the world. You pick up a lot from that. Coaching the under 20s, they should already know the basics, so it is just about getting the best out of them and that is what I am aiming to do."
Head coach Lane said Price 'ticked all the criteria'.
"He has had experience with Charlton Athletic with their youth academy in Spain," says Lane. "He was manager at Newport, so he has worked with good, young professionals. He has been part of professional soccer almost all his life.
"There are people who talk the talk about where they have been and what they have done. Chris Price has walked the walk. He has played hundreds of league games in one of the toughest environments in the world.
"He knows what it takes to get there. He is generous with his time and he is generous with his knowledge. He is a top quality man and has unbelievable experience. You could not have asked for a better person to come on board."
ENDS