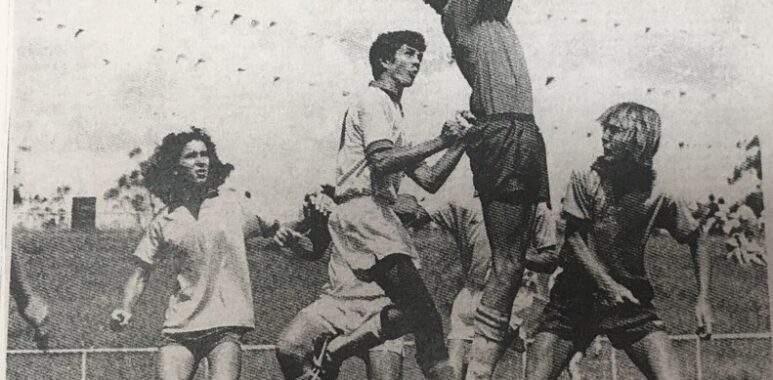 More on Gold Coast United in History
David Stoyakovich playing for Gold Coast United Colts in 1977 against Rochedale Rovers
Piece by piece the history of Gold Coast United is being collected as past players come forward with their recollections and momentos from their playing days at the Club.
One such former player is David Stoyakovich who contacted the Club to shed some light on the link between Gold Coast City and Gold Coast United.
David was a founding player with Gold Coast City SC and transitioned into the Gold Coast United SC U21 Colts team in 1977. Some others who transitioned to the Colts included Steven Ball; Cliff Calley; Colin Hertzog; Peter Hulme; Mark Swanson; Mike Taylor; Bill Vasiliou and Duane Wilson.
According to David, "Gold Coast City SC (a one team club) was 'born' in 1975 or maybe it was 1974, but its first game was played in the 1975 season.  In any event, a soccer team known by the name Gold Coast City first walked onto a soccer field in 1975."
Their short lived, but highly successful history is summarised as follows:-
1974 Gold Coast City SC established (date to be confirmed);
1975 Gold Coast City SC competes in Brisbane U16B Competition and finishes 4th;
1976 Gold Coast City SC competes in Brisbane U18A Competition and wins Premiership; and
1977 Gold Coast City SC ceases to be and the entire team becomes the Gold Coast United SC U21 Colts team.
Gold Coast City SC was formed to play in the Brisbane league due to there being an insufficient number of players on the Gold Coast at that time to support an U16 division.
"We were the youngest Colts team in the league (at 18 years, I was one of the two "older" players on the team) but what we lacked in age we more than made up for in ability."
"After our first three games our goal difference was 21 for and 1 against ."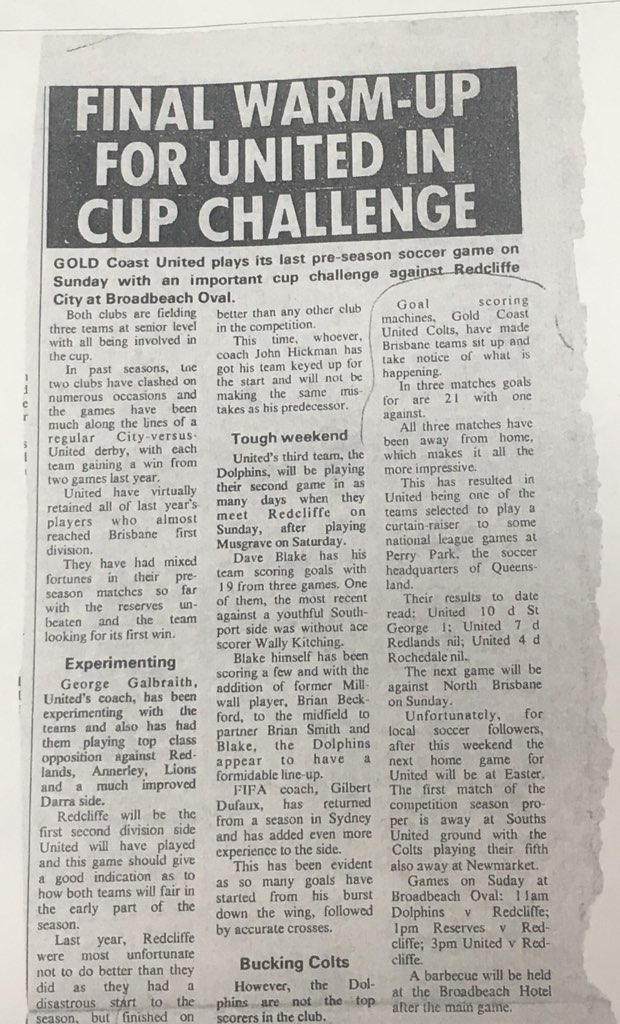 Article from the Bulletin in 1977
David's time with the Colts ended before the finish of the 1977 season to attend university where, in 1980 he did his ACL which ended his playing days.
"However, my time with Gold Coast City SC, and my relatively short run with Gold Coast United SC Colts, are amongst my most cherished footballing memories."
The original Gold Coast United is among the earliest established senior football clubs on the Gold Coast beginning its journey before entry into the 6th division in Brisbane in 1966.
United originally played in black and white stripes and changed to the highly recognisable blue and gold in 1967.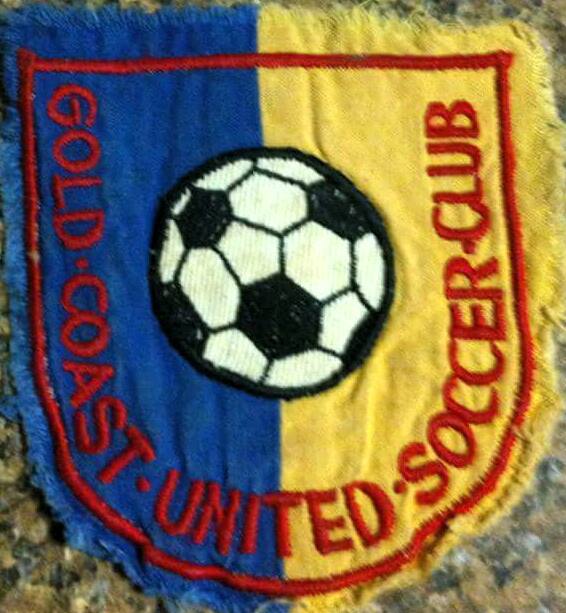 Eb Sorensen's Gold Coast United badge
With no formal Senior league established on the Gold Coast until 1975 (the same year that Gold Coast City U16's played in Brisbane due to the lack of numbers on the Coast) the first United was a melting pot of young men with 'football in their blood' drawn to the Coast from near and far who played in the Brisbane competition until the Club folded after the 1978 season.
In 1979, Gold Coast City was re-born, a name later 'adopted' by Palm Beach SC when playing in the NPL Queensland. Gold Coast City continued to play in the State League but away from Broadbeach so it was decided by a few people that Broadbeach Oval should still have a senior team playing there. That team was initially known as the Gold Coast Dolphins, established in 1979, who became known as the Broadbeach Dolphins. The oval remains a home for football today, the dolphin remains too, as part of the badge of the current Broadbeach United. 
The Club is keen to link with all former Gold Coast United players to record their stories and memorabilia.
If you have any interesting anecdotes, photos or information to share or if you're a Gold Coast United or Gold Coast City 'Old Boy' keen to attend a reunion, contact us at media@goldcoastunitedfc.com.au