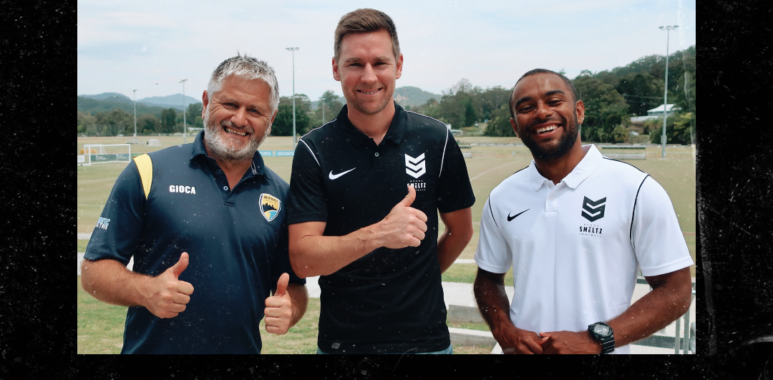 Shane Smeltz on board for 2022
Craig Midgley, Shane Smeltz and Greg Amaral, at Coplicks
Gold Coast United has locked in the coaching services of club legend Shane Smeltz for season 2022.
With the dust yet to settle on the 2021 season, the club is proud to announce an initiative that will see Shane Smeltz delivering specialist coaching to the club's players next season.
Smeltzie's exploits on the field, for clubs and country, hold him in high regard in all football circles. A distinguished playing career that continues for Shane in our Men's NPL team, is now being built upon on the coaching front too with his recent appointment as a specialist coach at Brisbane Roar FC, where he works with their rising crop of youth talent.
With a growing Academy of his own based on the northern end of the coast, the time was right for the Club and for Smeltz to come together to provide access to specialist coaching services on the southern end of the Glitter Strip, for Gold Coast United players.
United's Technical Director, Craig Midgley, is thrilled to have Smeltz onboard.
"It's great to partner with someone of Shane's calibre, he's had a magnificent career in the game."
"What he can bring to us is an extra, the kids are going to have the opportunity to join a program that can really zone in on their individual needs.
"And who better to head it up but Shane Smeltz."
The evergreen striker is also excited about the opportunity to coach and mentor the cream of the next crop of budding Gold Coast and Northern New South Wales ALeagues aspirants.
"Yeh look, delighted to link up with the club. Obviously I've got a big history with this football club."
"But it's all about the kids for me."
"It's about providing them opportunities for quality, additional training."
The chance to train with such a highly respected and decorated footballer has sent a real buzz across the club's playing group, from the U8's right through all of our junior squads, male and female, and across the senior Men's and Women's ranks too.
Heading the delivery at Coplicks will be the club's 2021 Coach of the Year, Greg Amaral
For Amaral, who joined United this season from Melbourne, he's most looking forward to the opportunity to work alongside and with Shane Smeltz, to deliver an aspect of GCU's football program that will raise the bar for our players and set the club apart in terms of depth and quality of football programs targeted at developing young players to reach their potential.
The drive to be the best, to lift the bar starts by attracting and retaining the very best coaches, Shane Smeltz and Greg Amaral fit that bill and it's the players who are set to benefit most from today's announcement, as Head of Football Craig Midgley confirmed.
"There's really not many better that I've come across in this region better credentialed to spearhead this area of GCU's football program."
As a lead coach assessor for Football Australia, Midgley is well placed to caste his eyes across the shining stars among the country's young coaching brigade.
"Smeltzie's playing career and statistics speak for themselves. He's among the all-time leading goal scorers in the Aleague.. And Greg Amaral's a very talented coach on the up."
"Having Shane Smeltz continue his association with Gold Coast United, in this capacity, is a fantastic boost for our playing group, and for our coaches.
"Not only are the players set to benefit, Greg will grow his coaching experience and talent as well."
"And having both of these guys around the club, focused on this area of our football plan, is massive boost for us all."
Details of the program will be unveiled shortly to those players who are set to continue their football journeys with Gold Coast United in 2022.
For those players looking to head in a different footballing direction, good luck, it's a long road that's well worth the trip. We wish you every success.