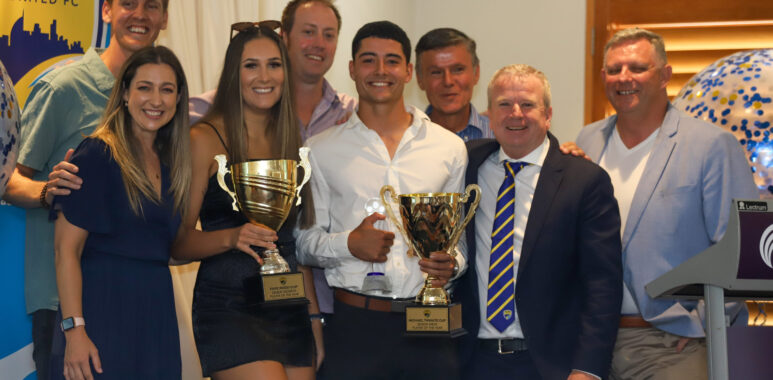 l to r Michael Thwaite, Laura Gerber, Ellie Weston, Grae Piddick, Riley Thomson King, Alex Bundalo, Danny Maher & Andrew Parkes (photo Mons Photography)
The curtain fell on Gold Coast United's 2021 National Premier Leagues season yesterday with the holding of the Senior Presentation at the Currumbin RSL.
Among the distinguished guests were Laura Gerber, State Member for Currumbin, Garry Nucifora, Executive Director of Sport at Bond University; Andrew Parkes, Chairman of Football Gold Coast and Anthony Farr, President of the Legends Football Club Gold Coast.
Also in attendance were long-serving GCU Board member Richard Watkinson and newly appointed Adam Cain and his partner Kylie.
Riley Thomson King capped an outstanding season receiving the Michael Thwaite Cup as the club's 2021 Men's Player of the Year.
Eloise Weston etched her name on the Faye Rodd Cup for the third consecutive season as the Women's Player of the year.
Paul O'Brien was recognised by his peers as the Men's 2021 Players' Player as was Eash Norrie on the Women's side.   
The 2021 Rising Star awards went to Eli Hughes and Claudia Danckert, both shone for their senior teams in 2021 and their futures look bright.
With a crop of talented younger players emerging from the the U18 & U23 Men and the U23 Women's ranks, season 2022 holds much promise.
SENIOR NPL AWARDS

 

 

Senior Youth Awards

U18 Men

2021 GCUFC U18 NPL Coach's Player

Jayme Spinks

U18 Men

2021 GCUFC U18 NPL Players' Player

Enzo Edge

U23 Men

2021 GCUFC U23 NPL Coach's Player

Dylan Jeffrey

U23 Men

2021 GCUFC U23 NPL Players' Player

Josh Koloski

U23 Women

2021 GCUFC U23 NPL Coach's Player

Mica Robinson

U23 Women

2021 GCUFC U23 NPL Players' Player

Holly Sessarago

Senior Top Goal Scorers

Senior Male

2021 GCUFC Senior Men Top Goal Scorer (11)

Jack Maher 

2022 GCUFC Senior Men Top Goal Scorer (11)

Archie Kassarate

2023 GCUFC Senior Men Top Goal Scorer (11)

Enzo Edge

Top Goal Scorer Senior Female

2021 GCUFC Senior Women Top Goal Scorer (27)

Isabella Habuda

Rising Star Awards

2021 GCUFC Rising Star – Men

Elijah Hughes

2021 GCUFC Rising Star – Women

Claudia Danckert

Volunteers of the Year Award

The Donnelly Family

Senior Player Awards

Women

2021 GCUFC Senior Women

Players' Player of the Year

Ayesha Norrie

Women

2022 GCUFC Senior Women

Player of the Year

Eloise Weston

Men

2021 GCUFC Senior Men

Players' Player of the Year

Paul O'Brien

Men

2021 GCUFC Senior Men

Player of the Year

Riley Thomson King