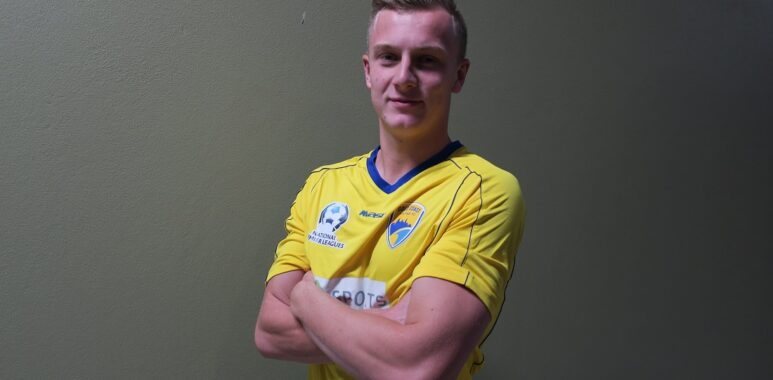 Harry Saunders, added to the Gold Coast United Men's 2019 squad
Defender Harry Saunders adds to the tally of local footballers signed to the Gold Coast Untied 2019 Men's squad with his versatility, enthusiasm and robust, no-nonsense approach providing further depth to Kristian Rees' defensive stocks.
With previous National Premier Leagues experience in his locker, Saunders is undaunted by the step-up to the senior level. He played a season for Gold Coast City U18's in 2016 and was part of the United Youth setup in 2018.
After initially missing out on selection in United's 2018 Youth side Saunders was, "brought into the squad by Brad Robinson a few days before Christmas 2017."
"Once I was brought in, I was the made vice-captain so I owe Brad a lot for that."
Having spent well over a month training with the Men's squad, Saunders impressed enough to earn a first team contract for 2019, a testament to his dedication, perseverance and hard work. 
"Harry didn't play a huge part last season with United, but based on what I've seen of him at training he displays a great passion for the game," coach Kristian Rees confirmed.
"He's a big strong boy and if he continues to keep working hard at training he'll improve and play a big part for the first team this season."
Saunders is of no doubt that the hard work for him has just begun and he's willing to get stuck in.
"The squad for 2019 is looking great."
"You really can't get much better than Michael Thwaite and Justyn Mckay as senior role models, they're both great leaders on and off the field."
Harry played his junior football with Nerang FC making his senior debut as a 15 year old before a switch to Surfers Paradise Apollo in 2015 where he was a regular in their reserves. After his first stint of NPL in 2016 Saunders joined Magic United TFA in 2017 before the move to Gold Coast United
With a senior pre-season appearance against Strikers under his belt, Saunders is keen to test himself against more quality opposition in January in the Inter City Cup which is hosted by former Brisbane Premier League powerhouse, Rochedale Rovers, one of the top current QPL clubs tipped as likely NPL promotion contenders in season 2019.
A stoked Saunders is keen for season 2019 to get underway.
"I'm really just looking forward to playing consistently and remaining injury free." 
"Hopefully I'll be knocking on the door and pushing for weekly selection."
"In the longer term I'm eyeing off opportunities for a move overseas. But for now I'm happy to be part of United, there's a really good vibe around the club"
The Inner City Cup is also a chance for United's Boys NPL and SAP squads to test their legs against some quality opposition before the season gets underway in February.
The United Men will face the hosts in round 3 on Wednesday the 23rd of January with other matches against fellow National Premier League clubs, Western Pride and Eastern Suburbs also on the pre-season agenda.