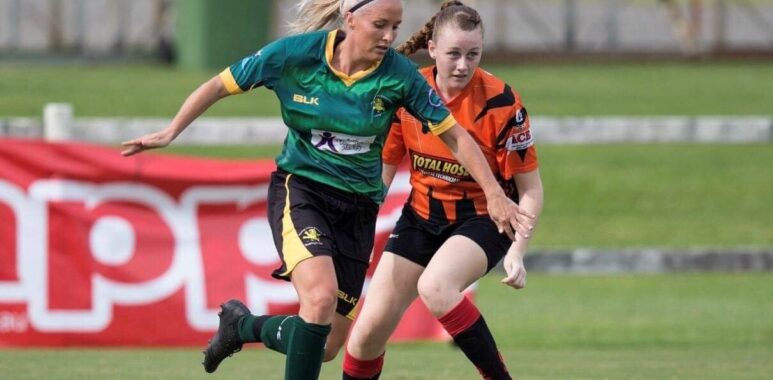 Dynamic attacker joins United
Prolific goalscorer Nadine Keast in action for Mackay Lions SC
Nadine Keast is the latest player to join the Gold Coast United Women's 2019 squad. Having recently relocated to the Gold Coast from Mackay for work and aspiring to continue her football at the highest level, the dynamic attacker saw United as the best fit.
Keast has dominated the scoring charts in Mackay's female top flight in recent years bagging 72 goals in the last 3 seasons, including 22 from only 11 games in 2018.
"I've was an avid follower of the Gold Coast United Women's 2018 season and was impressed by what I saw," Nadine confirms.
"So it seemed like a no-brainer to trial with the club when I moved down."
After making an instant impression at trials, Michael Cook had no hesitation in offering Keast an opportunity to test herself in the National Premier Leagues Queensland Women's competition.
"Nadine impressed me immediately.
"Her ability to fit right in with the speed of play and to be combining well with team mates right from her first session shows that we have unearthed another potential gem from a regional area."
"She looks to be a very versatile player, comfortable in both the midfield and upfront."
"Her positive attitude and bright personality means she's also the right type of person for the group, the other girls have found it easy to accept her into the environment."
The experienced 27 year old started her football at Country United FC as a six year playing representative football for Mackay from the age of 10 through to 22.  She also represented the region for the Capricornia School Girls at both Queensland Country and State titles. During her studies at James Cook University in Townsville, Keast played for Ross River FC and the North Queensland women's rep side before returning to Mackay and most recently playing for Lions FC.
Having made the move south Nadine is enjoying preseason training and looking forward to the Women's first competitive hit-out in the new year.
"At the moment I'm still getting to know my teammates."
"Everyone's been more than welcoming and made me feel at home and already on the park the squad's playing together as though we've played together for years."
"My goal for 2019 is to play consistently throughout the season for the team and continue to play the sport I love.
"After 21 consecutive years of playing football I'm still having a ball!"
Welcome to the club Nadine!