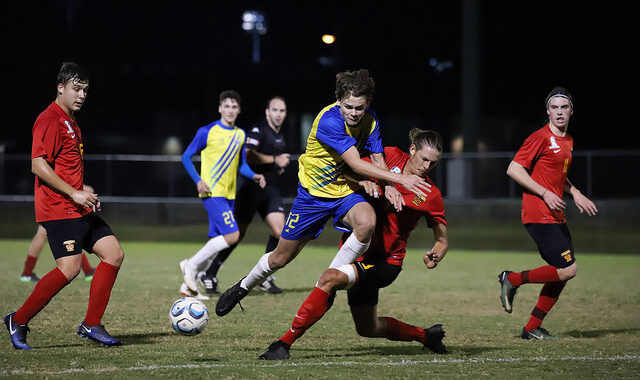 United signs Brisbane Strikers Youth Player of the Year
Braedon Steel in action for Strikers against Sunshine Coast Fire (Roze Gallo)
Another young gun has been added to the Gold Coast United Men's squad with Kristian Rees again signalling his intent on giving local talent a chance to fully test themselves in the National Premier Leagues competition.
Braedon Steel is the latest addition to the Men's squad, the eighteen year old returns to the Coast after making a mark at the Brisbane Strikers over the past few years.
Braedon made his senior debut as a 16 year old with the Brisbane based outfit and was a member of their squad that won the won the Queensland NPL Premiership in 2017. Steel made over 20 first team appearances with Strikers playing a part in the National NPL Grand Final against Heidelburg United as a 17 year old. In 2018 Braedon was named the Strikers Youth player of the Year and brings an eye for goal, determination and a good work ethic to United.
The central midfielder began his football at Surfers Paradise Apollo SC before stints as a junior at Southport and then Musgrave. After representing the Gold Coast in 2012 Steel made the move up the M1 to Strikers where he played until 2015 before a cross-town switch to the Brisbane Roar U18 squad in 2016 followed by a return to Strikers in 2017.
United Coach Kristian Rees believes that the 'sky's the limit' for the young attacker if he's prepared to do the work.
"Braedon's another young local boy who has spent the last few years away. He contacted me with an interest to coming back to the Coast.
"After seeing him at training he displays some great footballing attributes.
Steel turned down a Striker's contract with United a better fit for the 'about to start' Griffith University student.
"Strikers are a great club and I'm very thankful for everything they've done for me."
 "With United being a local club for me the move back to the Coast made sense.
"The new venue was also a major plus and being a relatively new team there are some new challenges for me."
Steel, who spent time training and playing in Spain in 2017, plans on a return to Europe but for now his focus is firmly set on the 2019 NPL campaign with United.
"I didn't know anyone in the team originally but they are all very welcoming.
"It's the type of team that you can have a laugh with but it's also serious and focused as well."
Braedon's major goal for 2019 is to get plenty of game time and to make as many starting teams as he can.
"My ultimate dream is to play professionally."
He's made a sound choice to follow that dream with United boasting a host of former professional players across its coaching ranks and among the senior Men's squad.
All United squads break for the festive season this week before a tightly packed schedule of pre-season games in January with the Men's first competitive home game scheduled for the weekend of the 9th & 10th of February.