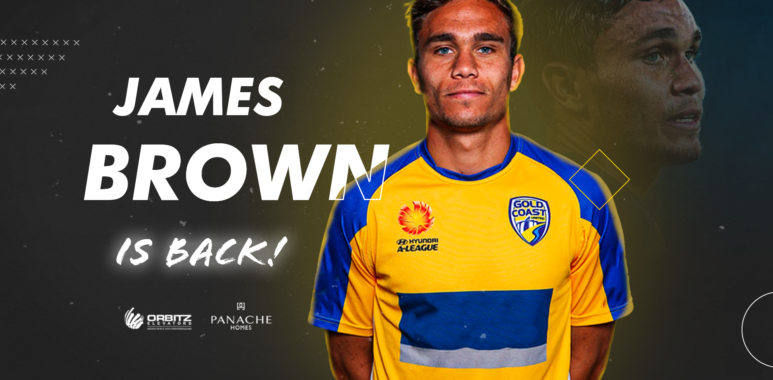 James Brown reunites with Gold Coast!
James Brown's heading back to Gold Coast United (graphic – Atter Studios)
In a real coup for the club, James Brown has agreed to return to Gold Coast United FC for the remainder of the Football Queensland National Premier Leagues 2020 competition.
Brown (30) began his football journey with Bilambil F.C. and then Kingscliff SC, before moving on to play for Burleigh Heads SC. An Australia selection at the Under 13 National Championships led to a move to the Queensland Academy of Sport (QAS) and subsequently the Australian Institute of Sport (AIS). After a two year stay in Canberra at the AIS James Brown joined Gold Coast United on a three-year deal in December 2008 going on to make 38 A-League appearances for the club scoring 9 goals.
A move to the Newcastle Jets followed before Brown linked with Melbourne City. That association with Melbourne continued with a brief stint at Avondale FC in the Victorian National Premier Leagues before an even shorter stay with Cape Town City in South Africa. A return to Australia was to Melbourne where James linked first with Nunawading City FC and then Hume City FC, where he scored 15 goals in his 40 appearances for the Victorian NPL powerhouse seeing them win their maiden Dockerty Cup and enjoying a lengthy FFA Cup run.
Pleased to be heading home to Kingscliff, James is excited to be linking-up once again with former Gold Coast United A-League team mates, current United coaches Jason Culina and Matt Osman, and current players, Shane Smeltz and Michael Thwaite.
"I'm really looking forward to joining the club. It sounds like a great environment from the conversations I've had.
"And from what I've seen it does look nice out there in Tallebudgera and I'm sure it will beat running around on cold winter nights in the outer suburbs of Melbourne!"
The Kingscliff-raised Brown has represented the country at the U17, U20 & U23 levels. These days James is working as an economic broker, focused on procuring economic development for the Indigenous business community. Along with playing, James has been involved with the game as an indigenous football advocate in and around greater Melbourne, helping develop education and sporting initiatives to introduce more youngsters to the game.
Brown is all too aware of the need for higher-profile indigenous sportspeople to use their influence to grow interest and involvement in all sports among indigenous communities.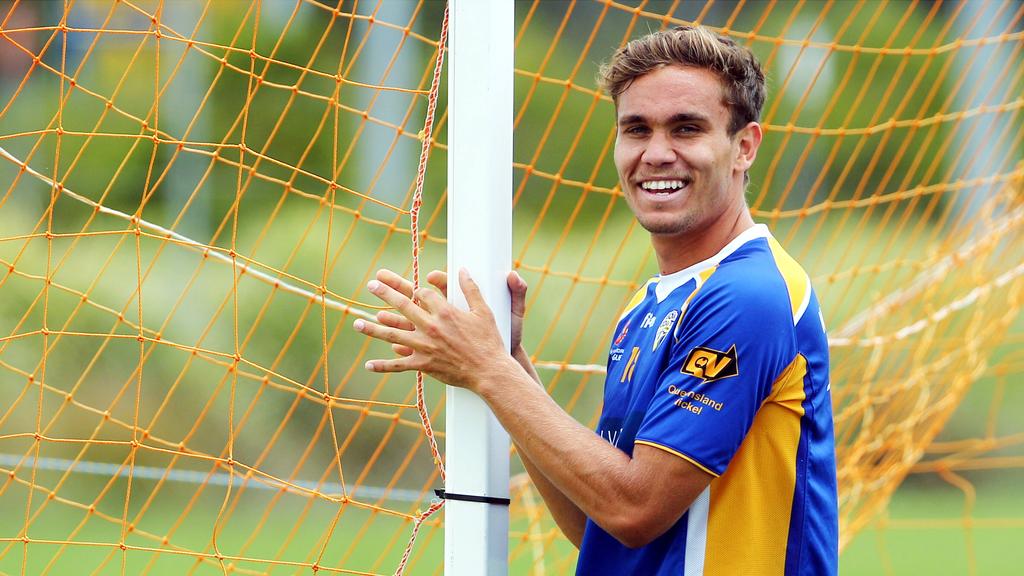 A young James Brown penned a 3 year deal with Gold Coast United in 2008
Hailed as the 'next big thing' when he signed for United in 2008, being an ambassador for indigenous football has always been a motivating passion for James.
"Down on the Tweed there's a sizeable community and most are into rugby league and touch . . . it would be great if I was able to change their minds.''
But playing football will be his first focus when he returns to Bundjalung country and links again with Gold Coast United and begins training and being around the squad. We can't wait!
"Everyone around the club is absolutely buzzing with this news," according to Technical Director Craig Midgley.
"James is a massive signing, he's a quality player. What he's achieved so far with his football speaks for itself.
"His quality on the pitch and in the sheds will be big for us!"
"But it's what else he brings to the club that's just as key, his professionalism and work ethic, his demeanor and attitude."
"We want our younger players to be surrounded by the right people, James Brown fits that bill to a tee!"
Jinga Walla James Brown!