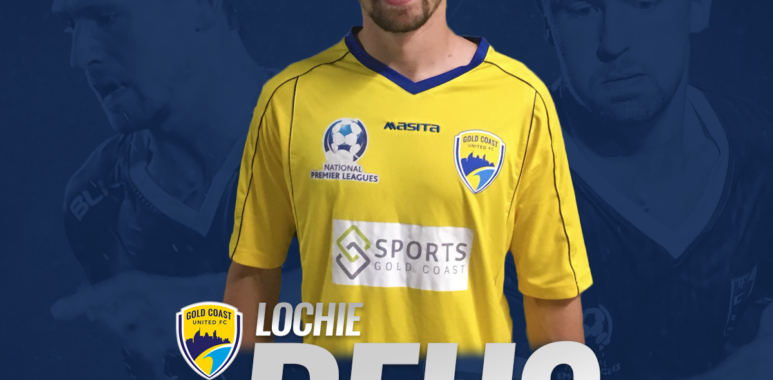 Gold Coast United Coach Sean Lane has signed experienced Lochie Reus, to strengthen his ranks.
After consecutive losses, Lane has turned to the classy central midfielder to add some starch to his defence and further vision in attack.
"Lochie contacted me about returning to the Coast and I had no hesitation to offer him an opportunity at the Club.
"I know what he can add, he's a smart footballer, technically very talented, but he's also someone who thinks as well as plays his way around the park. You can't teach that, and it's such a big thing to add more of that quality to the squad."
For Reus the decision to join United was relatively easy. A Gold Coast local, he jumped at the chance to settle back on the Coast and to link with Laney.
"My time in the US College system was great. I was lucky enough to be part of a NAI Championship winning team, and that was fantastic.
"I wanted to come back to the Coast, live near my family and friends and finish my studies. I also wanted to play NPL again and when I'd heard Sean had joined United I messaged him and here I am."
The signing of Reus continues the Club's focus on offering talented local footballers the chance to play at the top level. A product of Palm Beach Soccer Club and GCU Affiliate School, Palm Beach Currumbin High, Reus also boasts extensive NPL experience with stints in the National 2nd tier comp interstate with Marconi, South Coast Wolves & Macarthur Rams and locally with Brisbane Lions, Strikers & most recently Gold Coast City (Palm Beach). The gifted 23 year old knows what to expect.
"I really wanted to play under Sean and share my experience. I believe I can step up and help the leadership group and show those new to NPL what's needed to be successful at this level.
"Sean's a highly experienced Coach and has a solid track record at this level and he's working on giving lots of local youth a chance. I like where the Club is headed, the people that are involved and I wanted to be a part of that."
It won't be long until Reus is on the Park with a likely inclusion in Lane's squad for this Saturday on the cards. That squad will be strengthened by his inclusion and also by the return from suspension of Nick Panetta & Brandon Reeves. In further good news for the Coast, big centreback Dean Wernerson makes a return to competitive football with a hit-out in the Youth squad pencilled in. No Sam Johnson though who has a foot niggle.
Gold Coast United welcome Brisbane City to Robina Station Reserve this Saturday with kick-off at 7pm.
Earlier the GCU Women face-off with Moreton Bay United at 5pm.