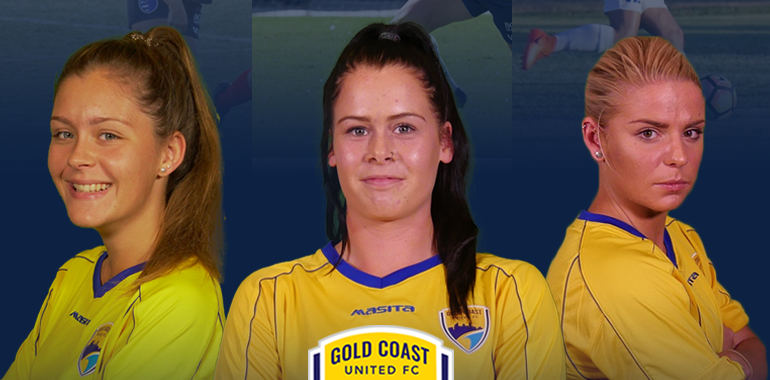 Locals added to GCU women
Women's Head Coach, Michael Cook, has drawn heavily on experienced local players for his 2018 squad.
A further trio of young Gold Coast players with NPL experience have been added to Cook's playing ranks.
Having looked to California for his x-factor, Michael Cook has shown faith in the talent available on the Coast to bolster his squad ahead of the 2018 WNPL season start, adding Teleya Reynolds, Georgia Elliston & Lily Lowe to his squad.
"I know the depth of talent here on the Coast and have watched these girls play at this level for a while now.
"They all have the ability, skill and attitude to make an impact and make a difference."
Reynolds, a Nerang junior, plays predominantly in the midfield. An attacking player with the ability to take players on, Cook will be relying on the play-maker to set his forwards in motion.
"Teleya is a quiet achiever, someone I'll be relying on to set our front three free.
"She has the skill and vision to create plenty of opportunities but she also works hard defensively, which we'll need too."
Elliston (17), a Palm Beach junior, recently represented Qld Schools at the Nationals. The hard-running forward is equally at home on either wing. That versatility and her appetite for work is something Cook cherishes.
"Georgia's pace and strength on the ball are her biggest assets.
"I'll be looking to use her where she can make the most impact week to week, depending on the opposition and how games are panning out."
Lily Lowe (16), a wide defender, is another product of Palm Beach. Elliston & Lowe have been playing together since an early age. That familiarity and the combinations they have developed for both club and school (Palm Beach Currumbin High – Football Sports Excellence) will be an advantage on game day and it is something that Elliston is looking forward to exploiting.
"Lily & I have been playing together for a while now. We know each other's games pretty well, and look for each other on the park.
"It's exciting to think that we'll be playing together at this level again and with the squad that's been brought together, we'll have a chance to grow as players, and be part of something special I think."
While only recently assembled, the GCU Women's squad has performed well in pre-season and has shown signs of its potential.
The season proper gets underway this weekend with Gold Coast heading to Brisbane to face Mitchelton FC on Saturday the 3rd with kick-off at 6pm.