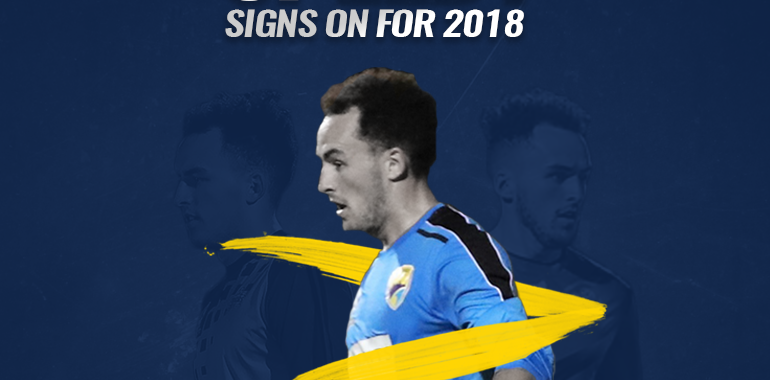 Gold Coast United are delighted to announce the signing of 2017 NPL Queensland goalkeeper of the year Zac Speedy.
The Kiwi arrives at United from Brisbane Strikers where under the guidance of Sean Lane he won the 2017 NPL Queensland Premiership and the safe hands NPL Queensland goalkeeper of the year award.
Speedy said the opportunity to work continue working alongside Lane was too good to refuse.
"The fact the Laney was the coach was a huge factor in my decision to move to Gold Coast United."
"I'm excited to head down and bring some of the winning ways we enjoyed last year at Strikers to the Gold Coast."
Strikers claimed the 2017 league title with a final day win over Olympic FC, the victory was bittersweet for Speedy who was injured in the match and forced to watch Strikers semi-final loss at the hands of Moreton Bay from the sidelines as a result.
Speedy said the disappointment of last campaign has provided him with extra motivation to go one better this time round.
"To get to that stage again and get into the finals series and push for that grand final would be a great way to cap off a strong year."
"As a team we've set lofty goals, I'd really love to do well in the cup and obviously the NPL as well it'd be good to put the team on the map and really get the community behind us."
2017 was Speedy's first season in the NPL having previously played several seasons in the ISPS Handa Premiership – the top tier of football in New Zealand.
Speedy also represented New Zealand at the 2013 FIFA Under-17 World Cup where he played against the likes of Italy, Uruguay and Ivory Coast, he also has nine caps at under 20 level.
Speedy sees United as the perfect environment for him to push for an A-League contract.
"I've got my Australian passport, last year I was painted as the Kiwi goalkeeper but I want to make it known that I'm Australian."
"That will help me to keep pushing to back involved at that elite level and Gold Coast United is the best spot for me to do that."
"Personally I'd love to win the safe hands award again, that would be ideal. I've really loved playing in the league and it's an honour to have won that accolade."
Speedy is expected to make his competitive debut for United in Saturday's NPL opener against Cairns FC.