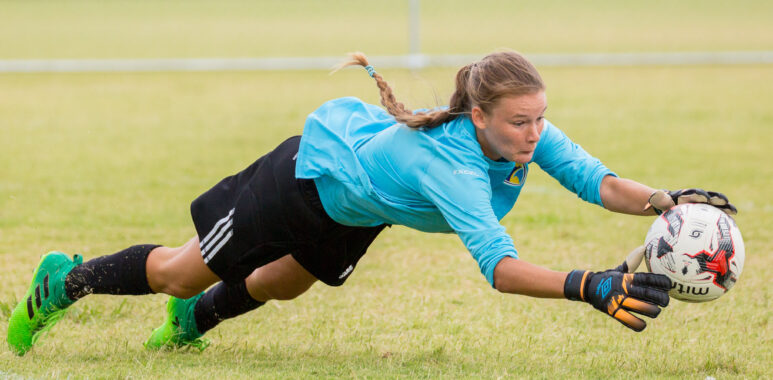 GCU comfortable with Rookie
Photo: Chris Simpson
Gold Coast United Women's Head Coach, Michael Cook, has supreme confidence in his squad's 'rookie' No1 goalkeeper going in to tonight's NPLW clash.
Meghan Kealy-Hawkins will take her place between the sticks tonight in the competitive 'debut' of the Women's side and Cook is comfortable knowing that they are in safe hands at the back.
"Meghan is young, but she's a real talent. She's performed very well in trials and is training the house down.
"She'll take great confidence knowing that she's playing behind an experienced, quality backline who have been successful at this level and know what to expect from any of our opposition."
With Captain, Neesa Doyle, & Vice-Captain, Ellie Fryer, the expected starting centre-back pairing, Kealy-Hawkins is also confident that both she and the squad will perform well.
"The best form of defence is attack and we have such great attacking strengths.
"But defensively we are solid too, really organised. Our midfield is also top quality, we've got some great players across the park."
The 18 year old Londoner is relatively new to football having excelled as a youngster in Volleyball, representing Queensland as a 'liberio', a defensive specialist. She found her way to soccer by chance and believes her defensive qualities and ability to read play, stand her in good stead as a goalkeeper.
"In lots of ways a Liberio and Goalie are similar. It's all about defending and 'reading' what the opposition are about to do."
Kealy-Hawkins is another of Cook's squad who played their junior football on the Coast and have been given the opportunity to test themselves at the elite level.
"I've been playing with Gold Coast Knights the past two seasons & really wanted to step up to the next level. I'm so grateful for the opportunity".
That chance comes tonight, with Kealy-Hawkins is expected to make her debut in the Women's historic first competitive NPLW game against Mitchelton FC.
Kick off at Teralba Park is at 6pm.