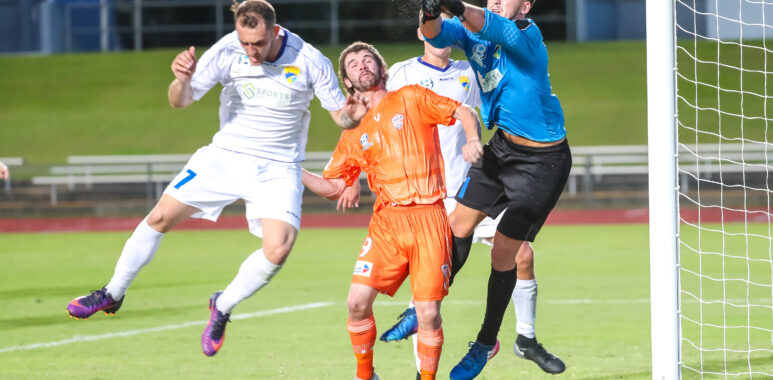 Photo – Pine Creek Pictures
Gold Coast United Men announced their arrival on the NPL Queensland stage recording a first up 3-1 win in Cairns
GCU's return to elite competitive football got underway with an outstanding result for the senior Men's side, on the road in the state's 'distance derby'.
After months of build-up and lots of hard work by many, it was handed over to Sean Lane's team to deliver where it counts most, on the park.
GCU director Mark Anderson was ecstatic about the result after the game.
"It feels incredible. Who would have thought that 12 months ago that this is where we'd be tonight.
"There's been a lot of hard work behind the scenes by lots of people. And to bag a win first-up is truly amazing"
Head Coach, Sean Lane, while acknowledging his side's great performance, was quick to put things into perspective.
"This is only one result, but it is the culmination of a massive amount of effort from so many people at our club. I'm pleased that the players delivered on their part today"
"It was a great performance from the players, skilful disciplined and aggressive."
With a relatively young squad Lane feels that a few factors helped his side prepare so well for their competitive debut.
"It's a young side, which can be a double edged sword.
"They go out and play with no fear, with enthusiasm and energy. While the staff work hard on this aspect, you really can't coach that, it's got to come from the players, from the leaders in the squad. And tonight it was there in spades'
With an average age of just 21 and more than 50% of Lane's travelling squad hailing from the Gold Coast, the result, and performance, affirms the Club's philosophy of developing and providing opportunities for local talented, elite youth footballers.
Pushed to single out his side's best performers, Lane was quick to acknowledge the effort of all involved.
"We were outstanding across the park really. Everyone contributed, everyone's bought into the culture we're trying to establish across the Club here – to be accountable and work hard
"We had a team full of good performances tonight …. but the keeper, Zac Speedy's second half performance was superb! He made some world-class saves, and I don't used that term flippantly … he was great for us."
Next Saturday, United's home debut rekindles a former A-League rivalry, an M1 Derby, with Brisbane Roar Youth heading down the highway on the 10th of February for round 2.
Kick-off at Robina Station Reserve is at 7pm.
The senior women will also make their 'home' debut at 5pm against Eastern Suburbs Football Club, after their Rd1 Match versus Mitchelton was 'washed-out' in Brisbane today.
A double-header to savour!