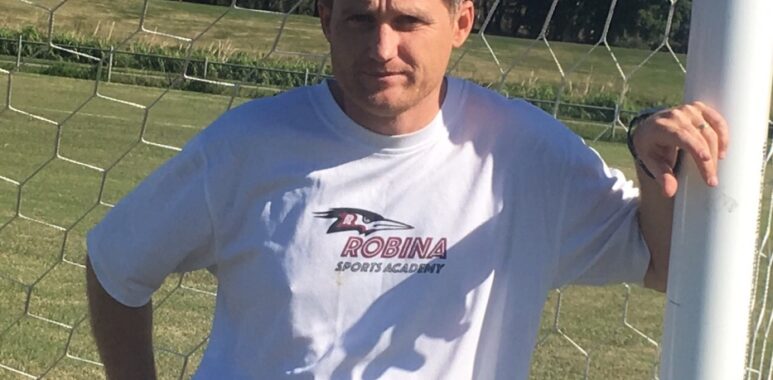 Alex Morrison involved with United Talent Centres
Alex Morrison confirms his involvement in United's NPL Academy Talent Centre Program
Gold Coast United has strengthened its Talent Centre ranks with Alex Morrison on board to assist Centre Director, Jamie Dixon in a Talent Identification capacity.
The concept behind the Talent Centre Program is to create advanced training groups where players can be mentored by the best coaches, training in the best environment, underpinned by the best holistic support while still playing with their friends at their local club. The program supports the development of 7 & 8 year olds with United working in collaboration with local clubs providing access to high level coaching and support.
Morrison shares the Club's philosophy that improvements to the standard of football overall must begin at the grassroots level which is best achieved by raising the standard of coaching at Community Clubs. He believes that Gold Coast United is well placed to offer the assistance needed to raise that bar.
"Right now I'm looking at helping out with Talent Identification for SAP aged players, for 7 & 8 year old players and working closely with Jamie Dixon to identify young players who would benefit from higher level coaching."
Morrison wears many hats locally in football. The current Men's Head Coach at Surfers Paradise Apollo, he guided Gold Coast Knights to a league title in 2017 before once again linking with Surfers. Alex brings much experience and knowledge to the table from both his playing days and from his involvement in the Robina Sports Academy, where he is the Director of Robina State High School's, Futsal / Football program.
A long association with football on the Gold Coast began in 2002 when the central midfielder first strapped on the boots locally for Surfers, a year the Club won the double. Stints playing with other local Clubs, including Knights and Broadbeach, sees the highly credentialed coach & mentor well placed to understand the areas of the game that need focus in the region.
"I've been involved in the Robina High's Futsal / Football program for 10 years. The aim of the program is to produce young players with the ability to step up, get better, get more confident, enjoy going to school combining with football."
The Academy aims to provide students with unparalleled opportunities to develop their Football and Futsal ability to an elite level. The successes of the program are many, especially in the Futsal area with several state and national championships to show for. Much success on the Football side too, with several standout players being mentored through the program, directed by Morrison and fellow Academy staff member, Teonie Rushton, a current Women's NPL player at Souths United.
The most notable recent football product of the School is Lyndon Dykes, who plys his craft professionally in Scotland with Queen of the South. Dykes played locally before heading overseas, firstly with Mudgeeraba before joining the NPL ranks.
Current GCU players involved in the Robina Sports Academy football program include Kimberly Shrimpton (GCU Women), Tara Finn (U17's) & Drew Jerrett (U14's). Recent graduate Kijana Walker plays alongside Shrimpton in the GCU Women's backline.
The progression from school to local Club to NPL and beyond is an area that Morrison believes a Club like United, with its depth of riches in the coaching ranks, can assist greatly. The Club shares this view and counts Robina High among its Partner Schools Program and Surfers Paradise as one of its Gold Coast Partner Clubs.
"From a coaches perspective, with GCU having some great depth and experience in the coaching ranks, getting kids exposed to that type of talent coaching wise will only make them and their teams and coaches better."
It is at the junior level that Morrison will be sharing his experience at United, working closely with Dixon to expand the Talent Centre Program to improve access for the region's youngest players to receive quality coaching while maintaining their association with their local Club.
For more information about how to get involved as a player, a Club or School contact Jamie Dixon jamied@goldcoastunitedfc.com.au