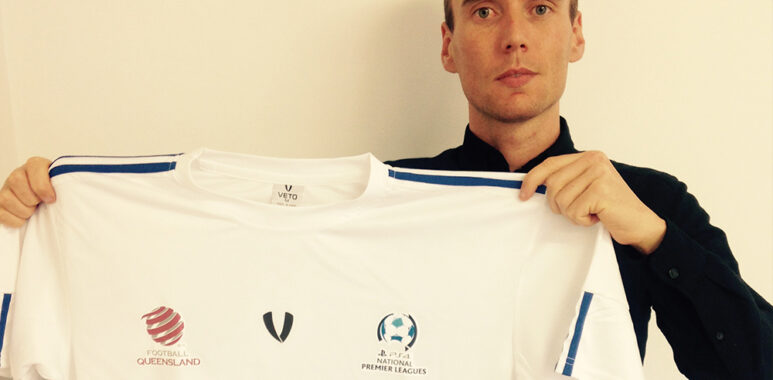 The New Football Operations Manager
Wednesday, August 16, 2017
Media announcement – Gold Coast United FC announce Football Operations Manager
Gold Coast United FC have today taken another major step towards their 2018 NPL debut, announcing rising coaching star Rick Coghlan as their inaugural Football Operations Manager.
English-born Coghlan, who at 28 already boasts an impressive CV, has hit the ground running.

"This is an exciting time – the birth of a new club, but there is a lot to do on and off the field," Coghlan said.

"My main role is to assist the club's Technical Director Craig Midgley and CEO Troy Bingham in using my previous playing and coaching experience to create an elite footballing environment for all players, coaches, and parents alike. That will include assisting with the delivery of our football program, developing a strong and positive community presence, focusing on coach education in the area and growing the GC United brand to the highest of levels"

"It is a busy role, but one that I am thrilled to have. At this stage of my career, it's an excellent opportunity and I am delighted to take the first steps toward a long term move here in south-east Queensland with United."

Born in London, Coghlan enjoyed a successful junior football career before the travel bug bit in 2010.
Since then Coghlan has juggled work life and his passion for football to move quickly along the coaching pathway, and has since gained his FFA 'A' Licence.

He has previously coached within the NPL system, was part of the Qld State program competing at the FFA National Youth Championships, and was senior women's head coach at NPL level before his most recent role assisting the Head of Performance at Central Coast Mariners FC and coaching within their A-League academy.

Coghlan is now fully focused on helping the club bring that culture of excellence to the Gold Coast, and raising the bar in terms of youth development on and off the field. He credits his time with A-League outfit Mariners and the elite staff there as having a major influence on his footballing philosophy and how he believes he can help bring best practice to the area.
United CEO Troy Bingham said Coghlan was a perfect fit for United.

"He is young, talented, full of energy and shares the same vision as the club," said Bingham.

"He is keen to make the elite pathway achievable to anyone on the Gold Coast who wants to follow that path. Rick also has a great understanding of the importance and value of the grassroots of the game.

"We wanted a football operations person who understood the game, not just administration. Rick understands the game from a playing and coaching level and so in his operations role he has an understanding of what support clubs, coaches, players and parents need in an elite environment. He gets the culture of a football club and can help us develop excellence in every area of operations."

Coghlan said he was looking forward to working closely with Midgley.
"Craig is such a respected figure in the game, I trained under him at the FFA Centre of Excellence in Canberra to achieve my A Licence and I'm excited to be part of his plans moving forward," he said.

"The business side of football is crucial to my role and will certainly keep me busy, however I am also keen to ensure that I am able to put my A Licence to good use and continue to develop my skills on and off the field which I know Craig will push."
Bingham said Gold Coast United would make several more announcements over the next few weeks in relation to coaching appointments and trial dates.
Career Snapshot
Rick Coghlan
Football Operations Manager – Gold Coast United FC
Coaching Qualifications:
• FFA/AFC A Licence
• FFA/AFC B Licence
• FFA/AFC C Youth Licence
Other Qualifications
• FFA/AFC Community Course Instructor/presenter
• Head of Performance Assistant & Academy Coach, Central Coast Mariners Football Club
• Qld State Program Coach;
• Qld NPL Youth & Senior Coach
• Technical Training Program Head Coach, Pittsburgh, USA.
ENDS