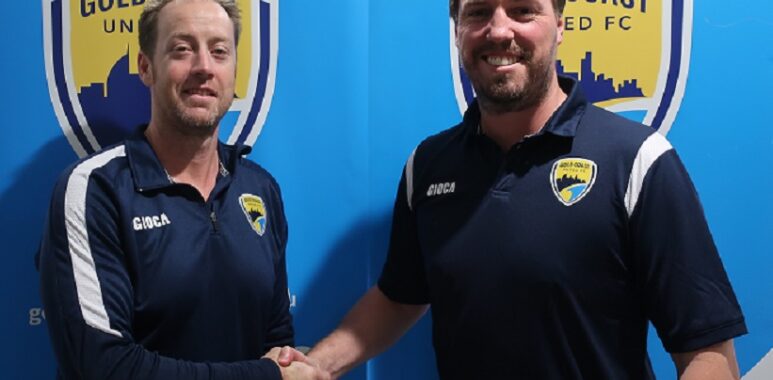 Grae Piddick welcomes Dave Provan to Gold Coast United
Grae Piddick has moved quickly to secure the services of Dave Provan as his assistant for Gold Coast United's tilt at the 2021 National Premier Leagues Queensland competition.
Provan comes to the club well credentialed, an FFA A Licence coach, Dave also holds a Bachelor of Applied Science in Exercise & Sport Science.
Originally from Sydney, Dave and his young family now call the Gold Coast home and for the last three years he's been coaching at the Brisbane Strikers where he was the assistant to Owen Baker during their FFA Cup run to the semi-finals in 2019. As a player he competed in the old NSW state league (now the NPL) for clubs such as Blacktown City, APIA Leichhardt, Northern Tigers and the Mounties amongst others.
Head Coach Grae Piddick is "looking forward to working alongside Dave and the other coaching staff to ensure the playing group have everything they need to perform at their best as individuals and as a cohesive unit for the club."
"He brings quality and experience as an assistant coach in the NPL and will be a key link in working with the talented young players to get the best out of them."
"Dave's also got a high level of experience in sports science that he'll incorporate into the program to ensure we are as prepared as we can be for each game."
As for Provan he's excited about "joining a club that continues to deliver a successful footballing pathway and continually strives to professionalize their operating model year on year."
"GCU have achieved successes in a short period of time and I hope to be able to contribute to that even more so in the years to come."
"Combine that with an exciting group of players, one of the most experienced and successful head coaches in the state if not the country, and a Technical Director with extensive experience in coach education, and it was an easy decision."
On a personal level Provan aims to "help the senior group move forward by helping Grae refine and perfect a model that suits and brings success."
"I bring with me different experiences and ideas to try and help that process."
"We are out to win games with energy and personality, whilst also guiding the next group of Gold Coast United prospects into senior football."
Welcome to the club Dave.