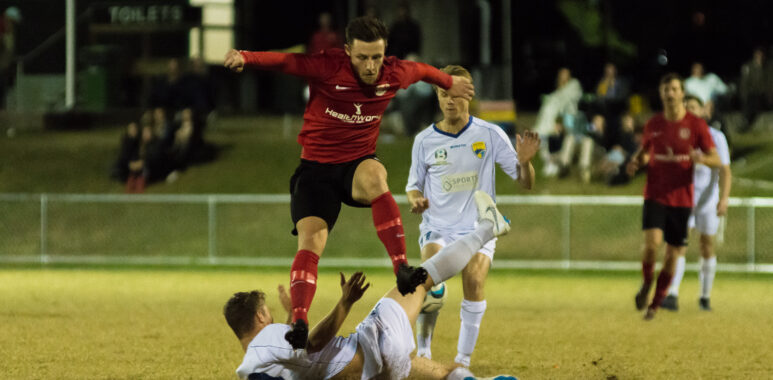 Action from the United v Redlands Rd16 match (Andrew Hudson Sports Photography)
A determined Redlands United stunned Gold Coast running out 5-1 resounding winners at Robina on Saturday night.
The home side came into the game looking to record a fifth straight win and the visitors desperate to halt a 4 game losing streak.
The home side started brightly dominating the early stages but it was Redlands who found themselves in front just before half time courtesy of a fantastic free kick from Alexander Warrilow.
The contest heated up in the back-end of the opening stanza with several yellow cards to United as well as to Redlands' Coach Nick Dibbs, with his side leading 1-0 at the break.
United fell behind early in the second half but responded quickly with new signing Fraser Hills scoring a debut goal. However several costly defensive errors gifted Redlands goals which proved decisive and the visitors ceased the momentum to run out comfortable 5-1 winners.
United Coach Sean Lane was disappointed with the result rueing his sides failure to take its chances.
"For the first 35 minutes we were the dominant team.
"Lack of discipline proved costly as we conceded the first goal from a free kick. We'd spoken about it during the week, defending set pieces but we got punished for it."
"Overall we know we can't defend like that and expect to get results."
Gold Coast head to Newmarket on the 16th of June to face Brisbane City.
"We're still in the hunt and we're still chasing that top 4 spot, nothing is going to change going into the trip away to Brisbane City." Sean Lane
National Premier Leagues, Rd 16
Saturday, June 3, 2018
Station Reserve, Robina
Gold Coast United              1 (Hills 48')
Redlands United FC           5 (Warrilow 35', OG 47', Sherwood 55', Kuboyama 80' 85')