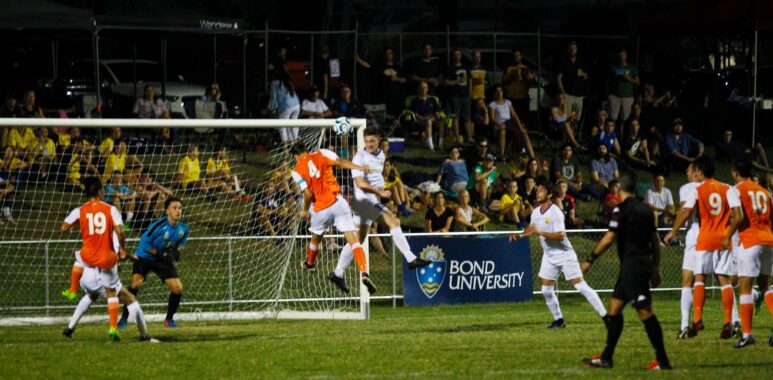 Brisbane Roar take the points
Photo – Brian Usher @OceanRoadMagazine
In a bruising derby last night at Robina Station Reserve, it was the Brisbane side that roared back up the M1 with the points, securing a 2-0 win against a Gold Coast team slow out the blocks.
An early goal to Mirza Muratovic stunned the home side who took some time to settle into their work.
Gold Coast Coach Sean Lane was disappointed with his side's start.
"I don't think we turned up in the first half. I thought they made it difficult for us and that we were a little afraid to get on the ball and try and play the way we have been training to do."
Any chances that did fall the Coast's way came late in the first half and were comfortably dealt with by Roar's keeper, Macklin Freke.
"We had a patch there for 20-25 minutes were we created 4 or 5 chances, their keeper made a couple of good saves. Maybe if one of those had of gone in the result might have been different" said Lane.
Down 1-0 at the turn, Lane's message in the sheds saw more intent from the Coast that spilled over early in the second half when Brandon Reeves saw red after a late, scything tackle.
"Once we had a man sent off we had a choice to shore things up but we didn't, we played 3 at the back and went on to try to win the game. Sometimes you get caught with a sucker punch and there second goal was a cracker".
With the Coast pushing players forward in an attempt to equalise, Young Roar took the opportunity to counter and in the 81st minute Bryce Bafford sealed the win for the Roar with a sublime finish.
While disappointed with the result, Lane was quick to applaud his side's second half commitment and intensity.
"If we can play like we did tonight in the second half, then we'll be a hard team to play against. We've got to dust ourselves off and go again."
The Surf-siders head north to Cleveland this Friday for rd3 in the National Premier Leagues Queensland competition to face Redlands United.
National Premier Leagues Queensland – Round Two
Saturday, February 10, 2018
Robina Station Reserve
Crowd – in excess of 2,000
Gold Coast United                 0
Roar Youth                             2 (9' Muratovic, 81' Bafford)
ENDS
Photo: GCU Defending – Brandon Reeves (GCU) rising high in front of goal
Photo credit: Brian Usher @OceanRoadMagazine
For more information contact:
Gold Coast United FC Media Manager, Mark Guy
Ph.: 0458516819