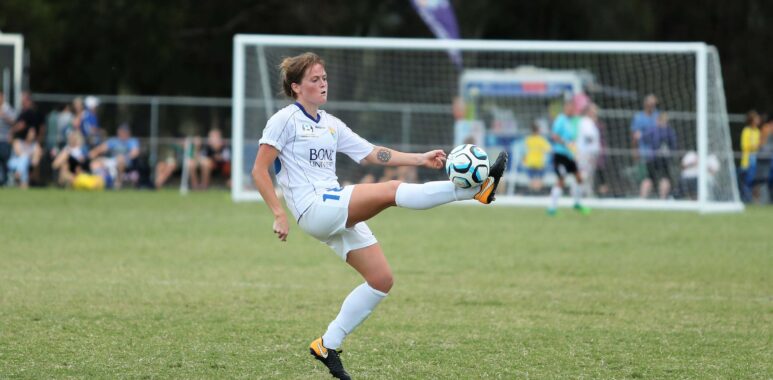 Coast Women with Historic Win
Photo – Craig Clifford @Sportspics
#NPLWQLD Rd 2    GCU 3 Eastern Suburbs 1
Gold Coast United secured their first NPLWQLD win
After a disappointing result against Mitchelton FC on Tuesday night, the Women bounced back strongly to notch an historic home win, bolstered by a parochial crowd at Robina Station Reserve.
The Coast's experienced players shone with Meg McElligott opening the scoring in the 17th minute, converting after a powerful burst through the Easts defence.
"I couldn't feel more proud playing in front of a home crowd and opening the scoring.
"The support was unreal, and I'm honoured to be a part of a Club like this."
The Coast's second goal followed shortly after when Captain, Neesa Doyle, stepped up to the spot to convert a penalty after an Easts' player had handled in the box.
To their credit, and against the weight of possession, Easts stayed in the game and pulled one back just before the break to trail 2-1 at halftime.
In the second half it was the home side that dominated and McElligott's brace on 70 minutes put the result beyond doubt.
After the match the 'power' forward was quick to praise her team-mates and the way the squad bounced back after the loss earlier in the week.
"It's good to get a couple of goals under my belt, but more importantly the team performance was more commendable."
"We're playing better together every week, and we're really only just getting started."
The women's attentions now turn to a tough away road trip to Richlands to face an undefeated Lions FC this Saturday at 6pm.
Women's National Premier Leagues Queensland – Round Two
Saturday, February 10, 2018
Robina Station Reserve
Crowd – 2,280
Gold Coast United               2 (McElligott 17' 70'; Doyle 26')
Eastern Suburbs                  0
ENDS
Photo:                Meaghan McElligott, in control
Photo credit:      Craig Clifford @Sportspics
For more information contact:
Gold Coast United FC Media Manager, Mark Guy
Ph.: 0458516819