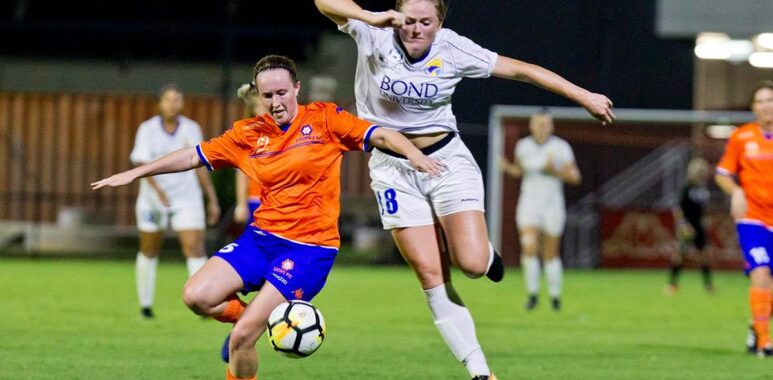 Photo – provided by Lions FC
A slow start spoiled Gold Coast's hopes of salvaging anything from last night's rd3 NPLWQLD match against Lions at Richlands.
Some scratchy defending and injuries to key players saw the Senior Women's side behind the 8 ball early against league front-runners Lions.
The home side opened the scoring on 10 minutes when a wayward clearance was pounced on by Di Savia who played in Harch for Lion's opener.
The Coast were not without their chances though, the best falling to striker Mackenzie Akins on 26 minutes, with the Lions keeper doing well to snuff out the 1 on 1 chance.
According to Akins, "we came out not as focused as we needed to be against a very good Lions squad. We gave up a flimsy first goal that set us down early."
More defensive woes led to a penalty for Lions on 36' which Morton converted, 2-0 down, and after losing attacker Dee Thompson soon after to injury, the hopes of a comeback looked dim.
Things turned further south for the visitors early in the second half when Hogg scored from a Di Savia cross, Lions 3-0 up after 51 minutes.
But the experience core of United came more and more into the game and the tide slowly turned for the away team who settled and started to maintain possession leading to two late goals from Meg McElligott who continued her recent goal-scoring form.
Akins believes that good signs are there but, "we need to work on implementing our second half performances earlier instead of trying to come from behind and a lot of that is down to maturity which is going to come with time".
Rd4 sees the Coast welcome Moreton Bay United Women to Robina Station Reserve on Saturday the 24th, kick-off at 5pm
Women's National Premier League Queensland – Round Three
Saturday, February 17, 2018
Lions Stadium
Lions FC                     3   (Harch 10′, Morton 36′ pen; Hogg 51′)
Gold Coast Utd           2   (McElligott 85′, 88′)