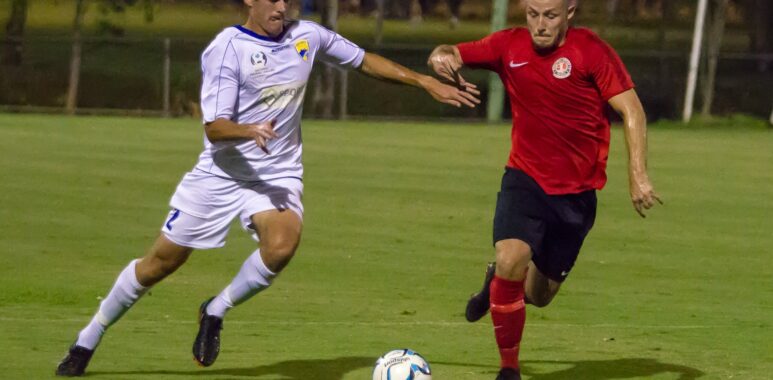 Photo – @RaybyPhotography
Gold Coast Men fell to Redlands last night at the Cleveland Showgrounds.
While the 2-0 loss was disappointing, Coach Sean Lane still found plenty to like about his team's performance.
With injuries to several players and two suspensions, a young Gold Coast side worked hard, dominating possession and creating several clear-cut chances.
"We had plenty of the ball but didn't convert that possession into goals," Lane said post-match.
"And at this level if you make a mistake you get punished and that's what happened with the first goal."
Redlands Striker, Shuto Kuboyama, swooped on a defensive error by the Coast to open the scoring for Redlands inside 20 minutes. With Gold Coast opting for three at the back and pressing forward with energy themselves, the opening goal knocked some wind out the Coast's sails.
Trailing one nil at the break the Surf-siders started the second half with similar intent to the first and Max Fitzgerald was among the shining lights for the visitors. On debut the lively winger made several incisive forays forward while also working hard defensively.
Lane was full of praise for the 18 year old debutant, singling out the winger and experienced goalkeeper Zac Speedy as the Coast's better performers.
"Speedy was excellent again and young Max Fitzgerald produced a very mature performance on his debut."
The second-half introduction of striker Ali Davis and an appetite to push on to equalise brought little reward for the  Coast, with Redlands producing another counter in the 74th minute that saw Kuboyama score his second, the match sealer for the home side.
More 'dusting-off' for the Gold Coast this week as they prepare for the visit of the John Kosmina coached Brisbane City to Robina Station reserve next Saturday night.
National Premier Leagues Queensland – Round Three
Friday, February 16, 2018
Cleveland Showgrounds
Redlands                                2 (Kuboyama 17, 74)
Gold Coast United                 0