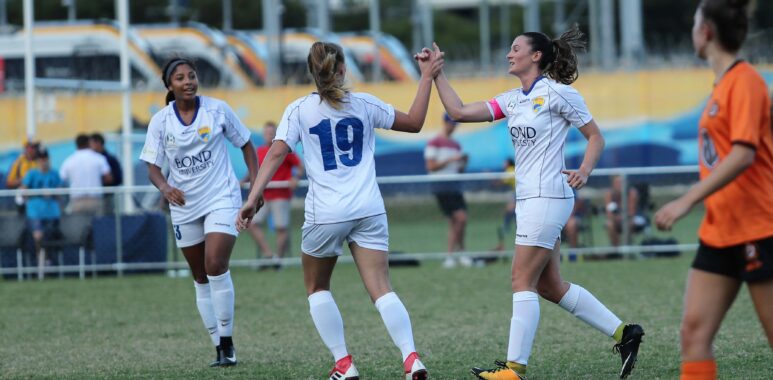 GCU Women face rampant Lions
Photo – Brian Usher @OceanRoadMagazine
Game Day – Rd3 Women's & Girls NPL
An away trip to face Lions for the GCU Ladies and girls today in rd3 of the #NPLWQLD competition.
After a win at home in rd2, the Women's squad takes some confidence into this match against a Lions side unbeaten in two previous outings. Tonight's game looms as a fantastic match-up after the two sides drew 4-4 in preseason.
The Lions squad runs deep, with a scattering of Wleague experience throughout, including former Matilda, Vedrana Popovic (Roar, Victory & Adelaide), Jordie Frank (Roar) & Tegan Ryding (Adelaide & Canberra) who's been right among the goals, scoring 7 in the opening two rounds. Two former Gold Coast players, Ellen Hepburn (GK) & Jamilla Riley should line up for the Lions, which adds further interest.
Coach Michael Cook believes that, "maybe Lions have the edge as a team full of gifted individuals, but I believe we play more as a team."
Cook will rely heavily on the experienced players in his squad to lead the line, with the Californians Anjel Brown & Mackenzie Akins the x-factors, beginning to find their feet and the Captain & Vice-Captain centre-back pairing of Neesa Doyle & Ellie Fryer, developing a rock-solid combo at the back.
Up front United welcomes the return of power-forward Dee Thompson (from suspension) who'll share the attacking duties with Akins and the goal-hungry Meg McElligott. The ever-green Joy Forsyth rounds out the core leadership group.
Of the young brigade, Kimberly Shrimpton and Kat Chapman have been impressive so far, both finding game time in the early rounds.
Shrimpton (17) is a product of GCU affiliate club Robina City and boasts much NPL experience, most recently at Souths United. The talented defensive midfielder has taken to a wide back role under Cook.
Chapman (16) played her junior football at Magic United before joining Palm Beach and working her way into the Girls NPL setup. The midfielder has been used out wide this season.
Sickness during the week for the energetic Lua Suero sees Charley Rayner with an opportunity to impress. Rayner (18) also played her junior football at Palm Beach and spent several years in the #NPLW system with Gold Coast City.
Coach Michael Cook has great faith in his young players and has focused his recruitment on the talent pool on the Gold Coast & the Northern Rivers.
"I'm so impressed by the depth of talent locally, there are so many quality young players to bring through and challenge for senior game time. It's a very exciting time for Women's football on the Gold Coast."
Krista Ruehe (19) is one such player with a strong futsal background including representative experience. Krista hails from just over the border calling Mullumbimby home. She brings loads of enthusiasm, energy & aggression to the squad.
Lots to look forward to in tonight's rd3 matchup, two quality sides who play a fine brand of attacking football.
Kick off at Lions Stadium is at 6pm.
The game is being live-streamed on the Football Queensland facebook page.