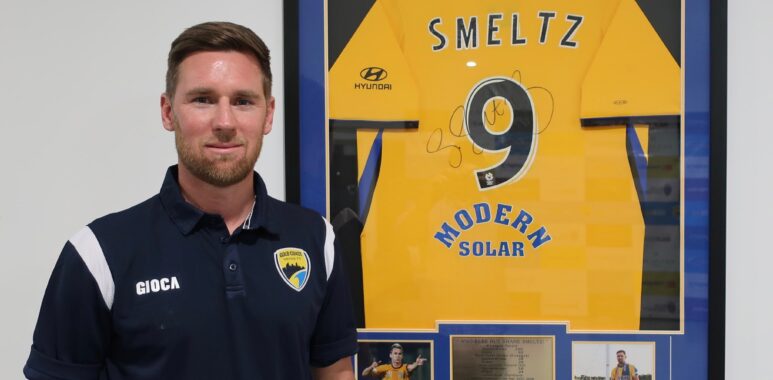 Shane Smeltz returns for Gold Coast United
Shane Smeltz has confirmed he'll be back in yellow and blue in season 2021 after topping the Gold Coast United scoring charts last season.
The club's all-time top scorer underlined his class in the National Premier Leagues Queensland competition bagging 13 goals from his 14 appearances in 2020.
Coach Grae Piddick welcomes Smeltz's return as he looks to the uber experienced kiwi international to add expertise on the pitch and in a specialist coaching capacity in 2021, offering up his experience to benefit the club's young attacking players.
After a decorated professional playing career, Smeltz is looking forward to pulling on the boots again in 2021.
"I feel pretty good, which is nice.," Smeltzie confirmed.
"I'm doing it for my own personal enjoyment and also to give back to the game a little bit, back to the young players of the club and young players around."
"When I was growing up it was important to have good senior players around. Those are the ones you learn off."

Reflecting on a 2020 season which saw GCU finish 11th Smeltz is keen to improve on his contribution in 2021, something his coaching skills will allow.

"It wasn't the greatest season in the end for the men's team. But I've spoken to the club and I'll be on board, I'm looking forward to it."
"I ended up only playing 14 games (in 2020), because I managed to get myself a four-week suspension, which wasn't good, and I got a couple of niggles throughout the season. And with Covid the season was broken up, so I played 14 games and scored 13 goals, so not a bad return."
Shane Smeltz – Career Highlights
A-League Record
Appearances   190
Goals                  92
Gold Coast United A-League Record
Appearances      38
Goals                  28
Gold Coast United NPL Record
Appearances      14
Goals                  13
International Record (New Zealand 'All Whites')
Appearances      58
Goals                  24
Individual Honours
Oceania Footballer of the Year          2007,2008
Johnny Warren Medal                        2008-2009
A-League Golden Boot                        2008-2009 (Wellington Pheonix – 12 goals)
                                                            2009-2010 (Gold Coast United – 19 goals)
A-League PFA Team of Season            2008-2009; 2009-2010
PFA Team of the Decade                    2005-2015