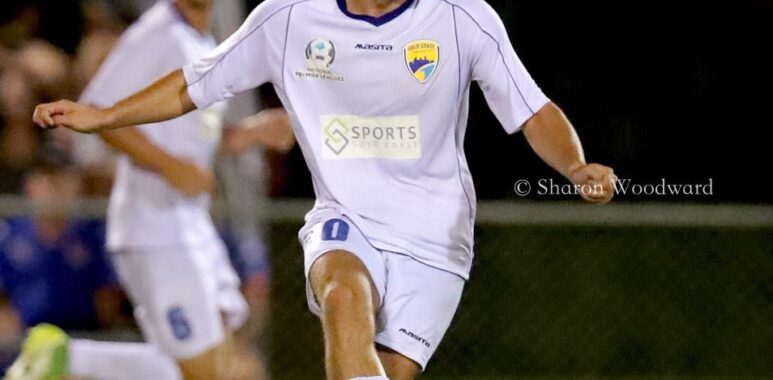 Smith's spirits still high
Conor Smith in action against NQU (Sharon Woodward)
A season of highs and lows for young Englishman Conor Smith in this his first taste of football in Australia.
A member of United's inaugural National Premier Leagues squad, the 21 year old Evertonian has been at the centre of United's push to establish themselves, a fledgling club, in a competitive league.
Last Saturday night summed up Smith's season in a nutshell, leading out the young United squad for the first time a memorable one, but the result and performance less so.
Ahead of tonight's clash with top four side Moreton Bay Jets we sat down with the ever jovial 'scouser' to get his impressions on the season so far.
Q. It's been a tough spell recently for United, how's the morale in the sheds?
"The morale is good. Obviously we're not all over the moon with the form we are in, but we have a good group and the lads are still training at the standards set, which is to train at 100% and we're doing that."
Q. Another strong side heading down the M1 on Sunday, Moreton Bay, what's the focus been in training? What needs to improve for GCU to produce their best and upset the visitors?
"We just need to focus on us. When we play our game we can beat anyone, but we have to stop leaking goals and not let our heads drop in the game. We're playing for pride for the next 3 games."
Q. How have you found your first season in the NPLQLD comp? What do you think of the standard? What are your plans for 2019?
"I've really enjoyed my first season here and loved every minute of playing for GCU. The standard is good, some teams are better than others but on any given day anyone can beat anyone in this league.
"My plans for 2019 are to stay in Australia playing for GCU, I'll be sitting down in the next couple of weeks to discuss."
Smith has featured in 18 of the Club's 23 matches in season 2018 with five goals to his credit. Clearance issues saw him miss United's debut win in Cairns; an untimely mid-week ankle injury saw him on the sidelines for a few weeks as did an accumulation of yellow cards.
Tonight's match against the Jets will be another chance for Smith to showcase his array of talent as he leads a very inexperienced United side on to Pizzey Park to face a Bay side keen to return to  winning ways after a 'surprise' loss at home last start to Toowoomba.
Kick off in tonight's Rd24 #NPLQLD match at Burleigh Heads Football Club is at 6pm.