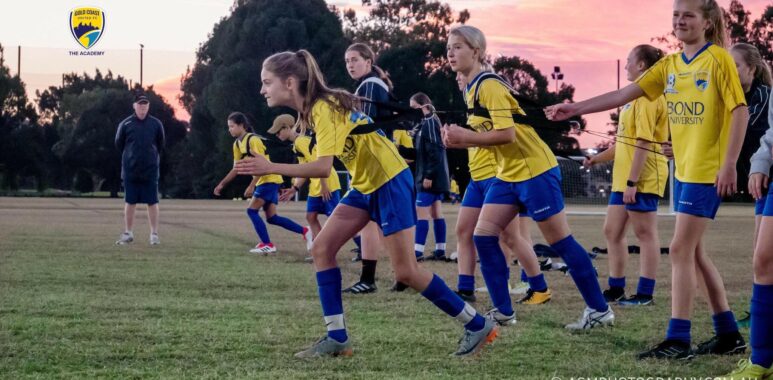 Youth Focus the key for United
U13 & 15 NPL Girls training hard (AGM Photography)
Gold Coast United's focus on the future remains on track with a strong foundation of youth development pathways in place.
In its debut season in the National Premier Leagues Queensland competition the Club's progress at youth level in 2018 bodes well for 2019 and beyond.
With the 2018 season drawing to an end players and coaches are sticking to task with finals football in sights for many of the Youth squads. According to United Chairman, Danny Maher, "it's been a great season!"
"If you do a Club Championship ladder we're on top, and that's a phenomenal achievement for our first year delivered through being a positive, professional Club with good levels of coaching and really just trying to lift the bar on everything we do everyday."
While United's senior teams have found the going tough against well established Clubs with long histories of success in the NPL, the Club's youth teams are flying the flag.
Maher confirms that the Club was under no illusions around how difficult the task would be for the Men's and Women's squads.
"When you have young players and you're in your first season there have been some ups and downs.
"We're looking to finish mid-table (both Men's & Women's) and that's in line with what we expected for our first year."
At youth level the Club's Academy squads have been the real shining light results wise. Four of the Club's six squads that compete in the U13 to U16 NPL competitions are on top of the ladder, an amazing achievement considering the calibre of the clubs that they compete against. That level of success comes from players flourishing in a positive environment, keen to grow and learn and play with and for each other.
A raft of these Academy players are also making positive football contributions outside of the Club as well, through their High Schools in State Schools competitions and in representative teams at State level.
The United SAP boys and girls squads too are going from strength to strength. All squads are playing outstanding football, growing in confidence as players and individuals and gelling as teams.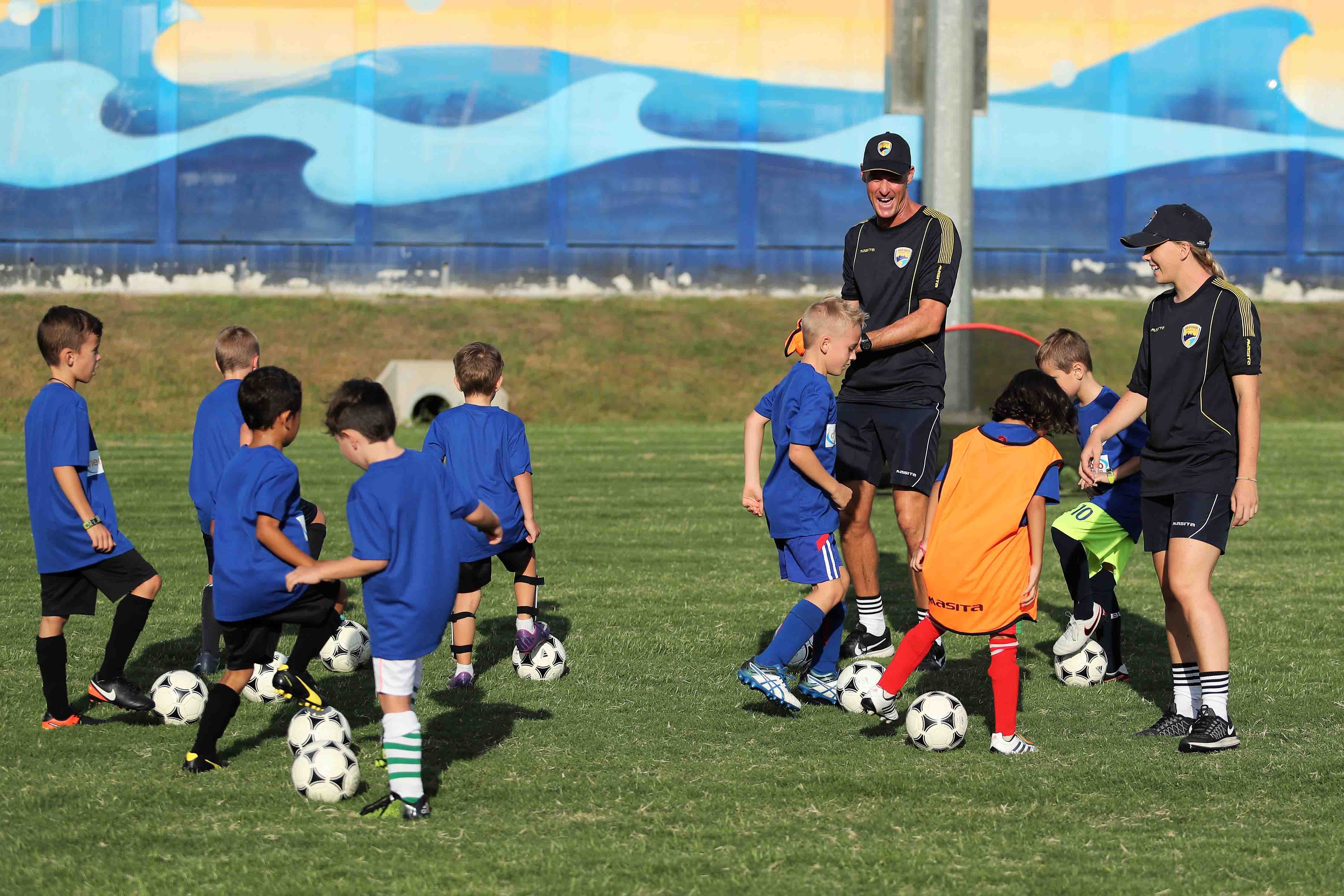 Youth Coach, Ben McCabe & Women's player, Dee Thompson, leading a free skills session for the next generation of football starts (Sportspics Photography)
A large part of the success of the NPL Academy & SAP squads is down to the outstanding job being done by all of the Club's Technical & Football staff. United is fortunate to have assembled a strong coaching group led by some successful coaches at senior level and overseen by one of Australia's most highly accredited and respected football educators in Craig Midgley. The football plan is in good hands.
The Chairman is quick to acknowledge the importance of the Club's senior coaches and how their work moulds the culture that permeates all levels of the playing ranks and football philosophy.
"The impact of our senior coaches is large. We want to have consistent policies from Under 9's right through,"
"That's what we talk about in the Club, we talk about whatever we do today we do better tomorrow."
Maher believes that United also has an obligation to continue to lead the way in engaging the wider football community for the benefit of the sport for all. With a football philosophy swayed towards youth development, the Club is playing its part in the wider Gold Coast football community by supporting Affiliate Clubs and Schools to keep 'investing' energy and focus into their young players too.
"We try to be positive members of the football community through our affiliate program, we run free clinics for kids and free coach education."
For Maher the outlook for the Club's future is both positive and simple.
"I want to see (us with) our own facility with a first class football academy.
"We want to see a couple of players come through and play for our first team at 18, 19 and then go on and be signed by at least an A-League club.
"And I'd love to see those Affiliate club relationships flourishing, we're still fleshing out how we can do that better."
Behind the scenes there is little time to reflect on what has been a bright and encouraging start with attentions already turned towards areas where improvements need to be made to ensure that the the best possible pathways are in place for United's ranks of talented young Gold Coast footballers.