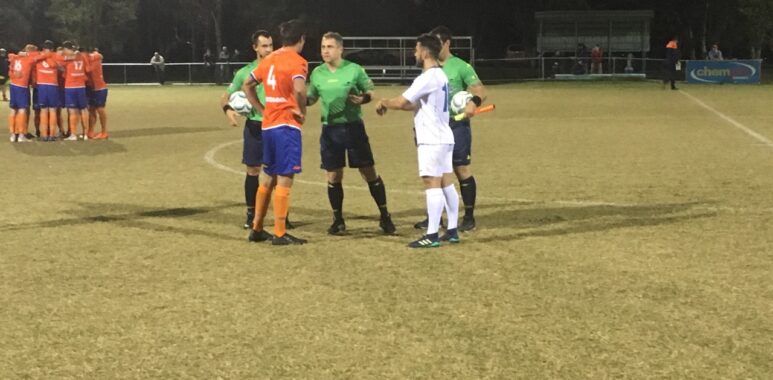 Lions maintain League Lead
Lions powered to their tenth successive league victory putting six past a hapless Gold Coast United at Robina last night.
The league leaders look comfortable from the get go against a home side riddled by injury and racked by suspensions.
The home side did well to restrict Lions to just a two goal lead at half time. Matija Simic opened the scoring from a set piece and the dangerous Marek Madle set up Jean Carlos Solarzano for the second.
United had their best passage of play the quarter hour after the restart. But when Mitch Hore bagged Lion's third on sixty minutes the game was effectively done and dusted. Three further goals from the visitors iced a resounding win
Not a lot of positives for United Coach Sean Lane from this performance with defensive ineptness again costing the hosts.
" I sound like a broken record, poor defensive errors, individual mistakes cost us. If you do that against a good side you get punished.
"Until we eliminate those individual mistakes we will struggle to come out and win games"
One upside for the Surfsiders was the opportunity to give a debut to two youngsters, a start in mid-field for Marley Arreola from the Youth squad and a cameo appearance off the bench late on for Bayley Topper (U18's), his first senior appearance as well. First time skipper Conor Smith led his side with heart from the middle but Lions boast the best defensive record in the comp, a miserly 10 goals in 22 matches, so chances to impress going forward were limited for the Englishman and his fellow attackers.
For Lions Coach, Warren Moon, the most pleasing fact post match was that his side came away with the three points, the key focus for the visitors who remain three points clear of Pride at the top of the NPLQLD ladder after last night's win.
"We obviously ran out convincing winners in the end, but it didn't feel that way. There was never any stage in the first sixty minutes that we felt comfortable. The third goal was crucial for us.
"In the end we didn't really care about what it was, as long as it was a win for us. We need to keep winning for what we're trying to do.
"Make no bones about it, we really want to win the league as a priority."
In fairness Moon's focus on the result played down how well his side controlled the match from start to finish, a consummate performance in both attack and defence led by Simic and Madle who were both outstanding.
Lane's now turns his attention to getting the United squad back up for the visit of the Jets next Saturday night. The fourth placed Moreton Bay will be looking to bounce back after a 'surprise' loss this weekend.
"A couple of injuries (for us) to Fraser Hills, JJ Prasad, Brandon Reeves and the loss of Austin Ludwick going to America leaves us short for the next couple of weeks.
"But it's an opportunity for others to step up and show everyone what they have got and what they are about.
"We'll front up against Bay next week who are pushing for a top four spot, they will be up for it as well and so will we."
National Premier Leagues, Rd 23
Sunday, 5 August, 2018
Robina Station Reserve
Gold Coast United              0 
Western Pride                     6 (Simic 7' 64', Solorzano 28', Hore 60', Madle 78', Macuace 80')