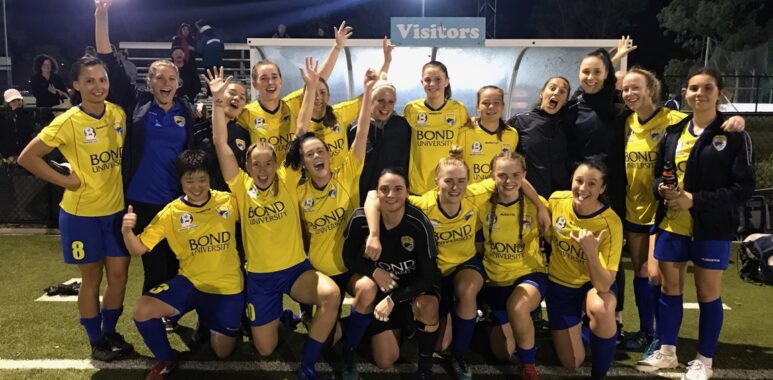 Gold Coast Women with a big win against Souths
A very happy GCU Women's squad celebrate their 2-1 win over Souths (Kelly Akins)
Gold Coast Women stunned League heavy-weights Souths United with an upset 2-1 win away at Runcorn last night.
United recorded their second win on the road this campaign against top four opposition, this victory coming at a crucial time of the season and effectively putting paid to any chance Souths had of a 2018 title.
A tight first half saw few opportunities, the teams locked together 0-0 at the turn.
Fifteen minutes into the second half, a 'worldie' from Reiri Ono, a volleyed goal from a corner, put the visitors in front, where they remained until Mackenzie Akins doubled the lead with 10 minutes remaining. A pin-point pass from Cassie Zaffina in goal found the American in space who finished with aplomb. That goal took her season tally to 20 – a great return from the consummate Californian.
The only slight negative on the night for United's Coach Michael Cook was conceding a goal late on in stoppage time.
"Cassie's performance (in goal) was of the highest standard and she deserved a clean sheet."
Otherwise the gaffer was full of praise for his players.
"All squad members performed at their best tonight and they completely deserved to win.
"More than anything else they will have learned just how good they can be when they remain focused for a full 90 minutes."
The win capped off a fantastic day for the GCU's female NPL teams, 2 wins and 2 draws against a powerhouse, well established Club of the calibre of Souths United. A reward for all of the players and coaching staff's great work this season.
With three games remaining in season 2018 United have the chance to climb higher on the ladder with all matches against sides below them in the league. Next up Capalaba are on the Coast, followed by Logan and a season ending away trip to the Sunshine Coast Wanderers.
Women's National Premier Leagues , Rd 23
Sunday, July 29, 2018
 Wakerley Park, Runcorn
Souths United            1  (Persson 90' +1)
Gold Coast United     2 (Ono 59', Akin 85')