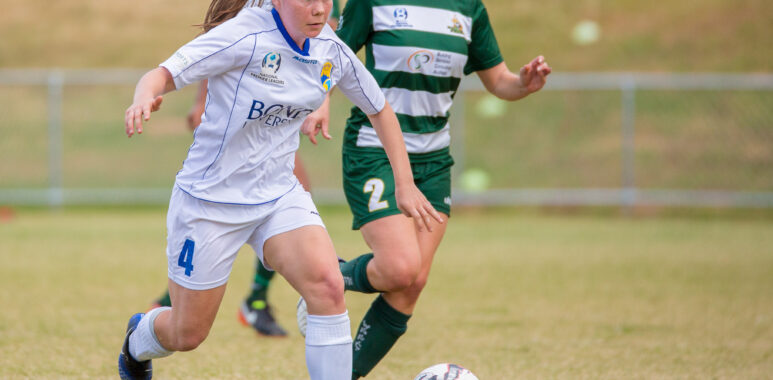 Charley Rayner plays her last game for the Club today before heading to the USA (Chris Simpson)
United Women will be looking to send off two of their own in style today when Jayde Lowe and Charley Rayner line up for their last match for the Club this season against Souths United.
Lowe and Rayner head Stateside this coming week, Jayde back to Drury University in Springfield, Missouri and Charley to Nyack College, Rockland County, New York.
Coach Michael Cook knows better than most the invaluable contribution the pair has made to the squad in 2018.
"They've both contributed positively to our season and we will miss them both.
"Charley is the very definition of a quiet achiever. She works hard and goes about her business without drawing any attention to herself.
"She's very adaptable and has filled a variety of roles for us this season, a player I trust to do what is asked of her and what the team needs."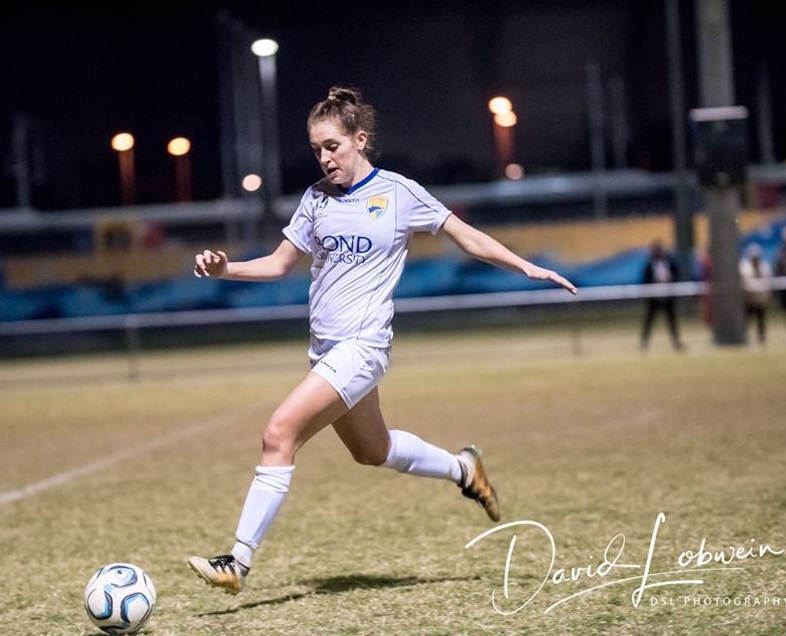 Jayde Lowe in action against SWQ Thunder
"Jayde is a dynamic, powerful player, a great contributor in both attack and defence."
"As people, both are very different characters, Charley quiet and softly spoken, Jayde a big personality and always letting herself be heard, but very similar in that they have great values, the right type of people the club needs. I wish them all the very best and look forward to welcoming them back in the future."
Both players, along with the remainder of the squad, will be looking for a big performance against third placed Souths today who remain in the hunt for a tilt at the 2018 premiership.
According to Cook, "the match against South's is a game that the whole squad is excited about. Testing ourselves against the top teams is a great opportunity."
"Preparation this week has gone well, we are close to full strength again with almost a full squad to choose from, a position we haven't been in for the majority of the season."
"Expect a big performance from Dee Thompson, she's looking forward to facing her former club."
Thompson joined United at the beginning of the 2018 season after notching up 19 WNPL appearances for Souths in 2017, scoring a very creditable 15 goals in that time.
Season 2018 hasn't been as kind for Dee having only recently returned to near full fitness after battling some leg injuries which have restricted her to only 9 appearances this season. Thompson has dialed in the radar in that time though, six goals to her credit. Oh what could have been!
Tonight's match kicks off on the artificial grass at Wakerley Park at 6pm. United visited Runcorn earlier in the year too, (during the Commonwealth Games) so know what to expect from the surface this time around.