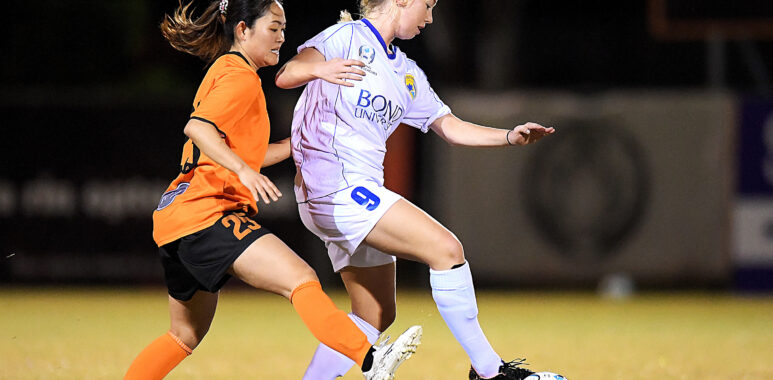 Mackenzie Akins with skill on show v Easts (Albert Perez)
Mackenzie Akins has settled well in to her role as a leader in the Gold Coast United Women's NPL squad and is blossoming playing further forward. The Californian has notched up 6 goals in the last 3 games as a striker, having scored 13 in her previous 18 appearances playing  a deeper role – a fantastic return in itself.
After bagging her second 4 goal haul for the season last weekend, bringing her season tally to 19 goals, we sat down with the affable American to get her thoughts on her new role and how she thinks the season has unfolded for her and the GCU Women, and how she's feeling in herself and about the future.
Q. How has your role changed since the departure of Meg McElligott?
The team is definitely taking on a different approach since Meg left. We're relying more on different players and playing more as a team to score. This makes us much more dynamic on the attack and allows me to have more of a role up top. I've had to step up and play more of an offensive role but players like Dee (Thompson) and Georgia (Elliston) have done an amazing job stepping up to the plate as well. With us up top, I think we pose an extremely dangerous attack for the opponents.
Q. How are you finding your new role?
I'm having a lot of fun combining with our new international player Reiri Ono who creates a lot of opportunities for me as well as our new keeper, Cassie Zaffina, who has been making a lot of big time saves to keep us in competitive games. It's unfortunate we're all getting to know each other this late in the season but it shows a lot of promise for the 2019 season. When we combine consistent players like Neesa (Doyle) and Joy (Forsyth) who have remained prominent leaders all season long with new players rising up to their roles such as Phoebe Clissold, you can see we have a lot of potential.
Q. What are your thoughts on how the season is tracking for GCU's women?
Being one of the more senior players on the squad, my leadership has taken on more of a mentorship role for a lot of the younger girls on the team. They're talented and eager to learn, which is the right attitude to keep moving forward. But with such a young side for our debut season, we have seen a lot of ups and downs throughout the year. That is to be expected with a new squad and new club, but we have a lot of competitive and determined girls on the team already looking to improve for the next WNPL season.
Q. And yourself personally, you arrived having recently undergone a knee operation, how's the health & fitness and what's the future hold for Ms Akins?
I thought since this is the longest season I've played in, I might struggle fitness and health wise, but I've only gotten stronger and fitter throughout the season. I feel great, my knee has never felt better, and I really look forward to playing all 90 minutes every weekend. My favorite way to stay fit is to play the game, so I really enjoy the long season.
Right now my plan is to remain in Australia and to continue playing for Gold Coast United. I really enjoy being a part of a new club that supports and encourages the women's side, and I want to be a leader in the growth of this club going forward. I'm looking forward to the players we bring in next year as well as the local talent getting even better for 2019.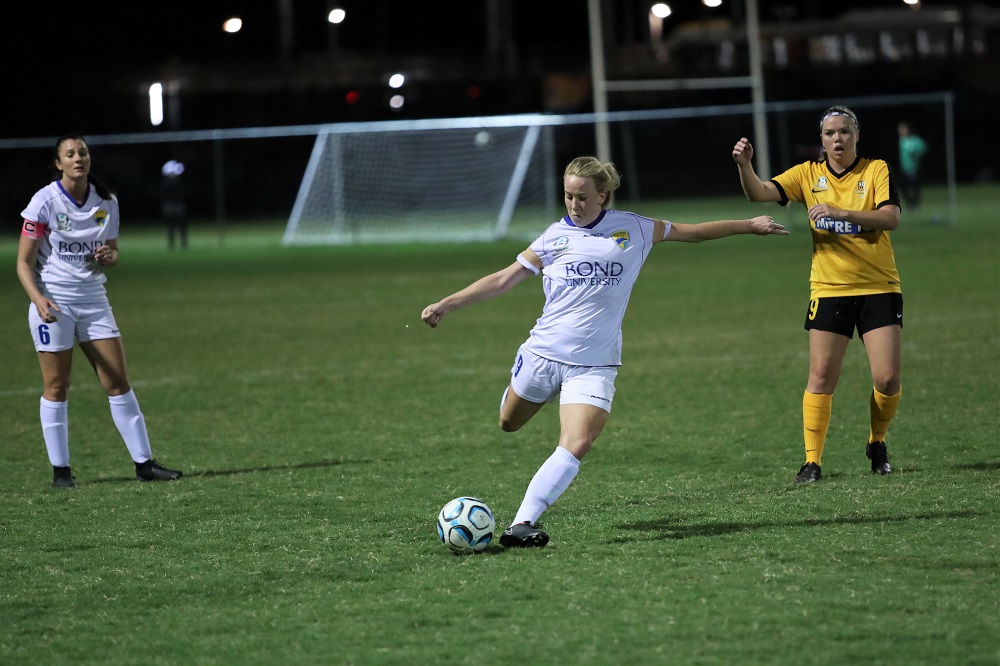 Mackenzie Akins testing out her knee, watched by GCU Captain Neesa Doyle (Sportspics)
Akins is one of two GCU players who has featured in all 21 games this season, the other being skipper Neesa Doyle, a testament to both players' approach and attitude and a real example to a young but fast developing squad. Last start GCU fielded 9 teenagers in their ranks, with four players still at school. With a host of very talented players in both the U17 & U15 NPLW squads the future looks bright for United heading in to season 2019 and beyond.
In their first season together the GCU Women sit 8th on the QLDWNPL table with a game in hand on their nearest rivals – three points adrift of 7th placed Easts and four points behind 6th placed Mitchelton. With a strong showing in their 5 remaining games GCU will be looking to finish higher up the ladder, something this squad is capable of achieving.
That ambition will be well tested on Sunday when the women head again to Wakerley Park to face competition heavyweights, Souths United, who'll be eager to continue their winning ways and put pressure on The Gap & Lions in the race for the 2018 crown.