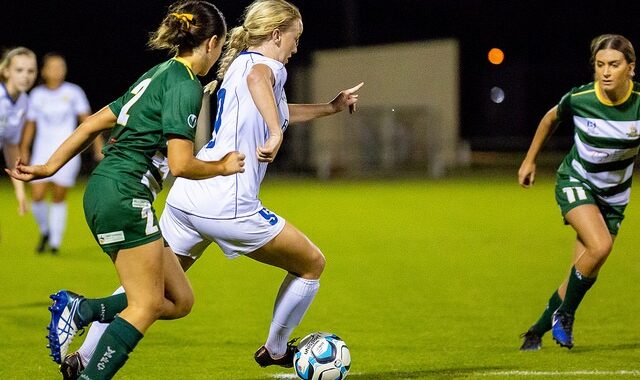 Mackenzie Akins was at her attacking best against Western Pride (Chris Simpson)
United Women proved far too good for Western Pride running out 8-3 winners at Runaway Bay yesterday.
The home side was on the front foot from the get go with the speed of Deeanna Thompson and skill and power of Mackenzie Akins yielding a goal apiece within the first 10 minutes.
The visitors weathered the early barrage and worked their way back in to the match and were rewarded when Sophie Weatherby pounced on an opportunity to score for Pride to pull one back. Phoebe Cave scored her first goal for the season late in the half to see the home side in control leading 3-1 at the turn.
The second half was very much one-way traffic and started very similar to the first with United scoring early – 3 goals in quick succession – to effectively seal the result. Another two goals to Akins saw her complete a well deserved hat-trick and Thompson netted her second. Further goals from Phoebi Clissold (her first for 2018) and a fourth to Akins on the bell added to United's tally.
To their credit Pride hung tough despite the lop-sided score line and managed to net two late goals via their best on ground, Weatherby, who rounded out the match with a hat-trick.
United's coach Michael Cook was chuffed with the result and the effort from his squad post match.
"Overall I'm pleased with scoring 8 goals and getting all three points.
"There a few things that need improving on during the week for a tougher game next week against Souths United."
United host third-placed Souths United at home next week in what promises to be a crucial game in the Women's league title race. Souths trail The Gap & Lions by 3 points with those sides separated by goal difference. If United can produce their best form they are a chance of causing some problems for the visitors.
According to Cook, "we can definitely trouble them and get a result if we play at our best and for the full 90 minutes."
Souths recorded a 3-0 win on the artificial grass at Wakerley Park in Rd10 with United struggling to come to terms with the surface on that occasion.
Women's National Premier Leagues , Rd 22
Sunday, July 29, 2018
Runaway Bay Soccer Club 
Gold Coast United                8 (Thompson 3' 52', Akins 7' 48' 54' 89', Cave 42', Clissold 68')
Western Pride                       3 (Weatherby 14' 85' 90 +1')