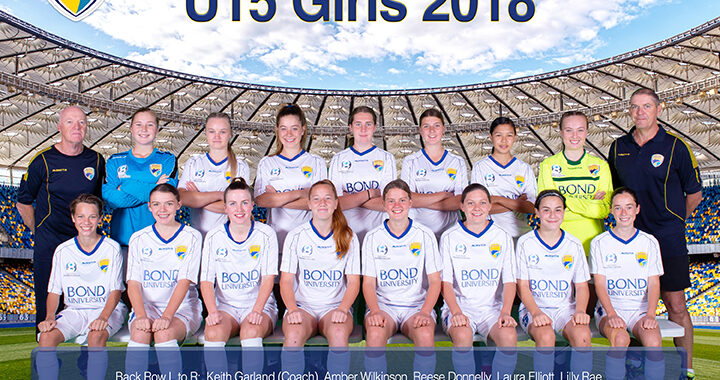 The Gold Coast United FC U15 Girls (Trudi Teren)
It's Grand Final Day for the Gold Coast United's U15 Girls.
After securing the National Premier Leagues Queensland League title, the girls are focused on re-producing the disciplined, structured and controlled form that yielded 20 wins, 3 draws and a single loss in season 2018.
The aptly dubbed 'Dream Team' head into this afternoon's match at Briggs Road with an eye on the big prize but with their feet firmly planted on the park.
There'll be no room for complacency or over-confidence going into today's decider with the vastly experienced Keith Garland in the dugout. 'Garlo', a stalwart of the Gold Coast Premier League scene, has tasted much success and knows what is required to win big matches. And there'll be no stone left un-turned by Manager Warren Taylor in his efforts to ensure the girls are at their best.
This squad is stacked full with very talented young footballers across the park and boasts a rock-solid defence, a tenacious and skillful midfield and a raft of clever attackers, some with strength, speed and power and others blessed with silky skills and guile.
Squad at a Glance
Keepers
Amber Wilkinson, Lily Avzin-Butler – blessed at the back, safe hands, strong to the ball
Central Defenders
Laura Elliott, Lilly Rae, Mica Robinson, Emily Bloomfield – take your pick, all with an uncomprising, straight forward approach of 'you shall not pass'
Wide Backs
Ebony 'Curly' Taylor & Carys Jones – strong defensively, tireless going forward
Midfielders
Reese Donnelly (captain) – no nonsense midfielder with great vision and game sense. Powerful and controlled, the Mullumbimby product brings assurance in the centre of the park
Anabelle Gibson – another box to box midfielder who can snuff out opposition attacks and set her side going forward just as quickly
Claudia Tisler – not one for a backward step, always works hard on and off the ball
Wide Attackers
Molly Mclennan, Storm Reason – a contrast in stature but both super effective. Molly diminutive & terrier-like, Storm robust & powerful
Attackers
Claudia 'China' Danckert – you don't win the 2018 Players' Player and Coach's Player double by fluke. This girl's got talent.
Ryleigh Saunderson – 2018 NPL Academy Girls Golden Boot. Can poach, can weave her way into the box and can finish. A 33 goal haul in 2018, the most from any player in the Club
Having accounted for The Gap in the semi-final, the Girls come up against Souths United in today's 'big dance', a side they have beaten twice previously in 2018. But those results count for little in today's match, the girls are well aware of that and know what's required to secure the win.
Kick-off today at Briggs Road is at 5.00 pm
If you can't make it to the game, half and full time updates will be posted to Facebook
Match Details
NPLWQLD U15 Girls Grand Final
Sunday, September 23, 2018
Briggs Rd Sporting Complex, Flinders View