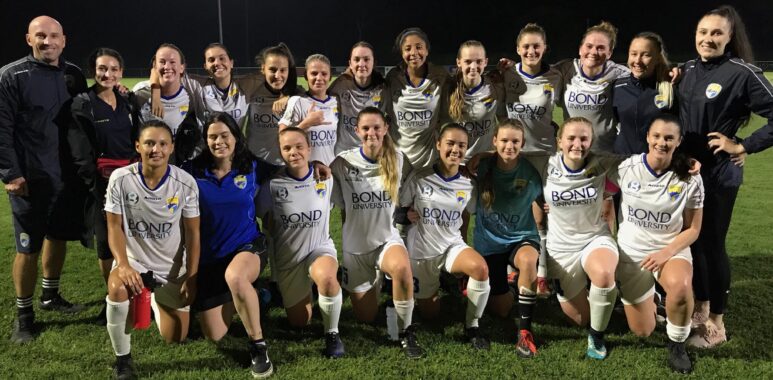 Squad & Coach celebrate a strong win over Capalaba (photo Kelly Donnelly)
Gold Coast's 'roller-coaster' season continued with a big win away against Capalaba following their 'below par' showing against league front runners Souths last weekend. United's Women returned to their dominating best with an emphatic five goal second half blitz muzzling the Bulldogs on Saturday night.
The Coast started brightly with some early chances scourned. The 'Dogs though showed plenty of fight matching it with the visitors until late in the half when Mackenzie Akins opened the scoring, her deflected shot finding the back of the net.
1-0 at the break.
A five goal second half onslaught began soon after Imogen Braithwaite's 60th minute strike was disallowed for offside. Meg McElligott initiated the torrent, with Lua Suero chiming in with her first goal for the season soon after. United well in control three nil up.
From there on in McElligott stepped up again, too powerful for a tiring Bulldog's defence, the striker notched up a further three goals for United, punctuated by a solitary goal to the hosts for Stephanie Latham.
Afterwards diminutive teenager, Lua Suero, was 'over the moon' about scoring her first senior goal for the Club.
"I was super excited to finally get a goal, and most of all so happy that our team could bounce back after last week's defeat."
Michael Cook's faith in 'blooding' young local talent is starting to bear fruit.
"I'm delighted for Lua, scoring her first ever senior goal is a special moment for her and will be great for her confidence."
That right blend of youth and experience is something Cook has been working on to get right.
"Our methodology since pre-season has been a holistic approach whereby each squad member focuses on our whole of team playing style, as well as their individual responsibilities."
"Last night was a great example that the players' hard work and willingness to do what is best for the team will reap rewards.
An match-eve injury to Georgia Elliston saw a late re-shuffle to the starting lineup with Anjel Brown slotting in on the wing. The Californian continues to impress with her versatility, creating several scoring opportunities for others and for herself.
"The unexpected injury to Georgia on the morning of the match, meant we had to move some players into unfamiliar roles.
"With everyone buying in to the  whole of team approach, if we require them to play different roles then they are prepared for that scenario."
Brown's experience, coupled with Neesa Doyle's leadership and Mackenzie Akin's smarts and vision in the middle of the park were central to United over-running Capalaba in the second half.
Both ends of the spectrum for the two second half goal scorers, the fifteen year old Suero with her debut goal for the Club and McElligott's four goal haul taking her season tally to 22!
Round 12 sees United's first home game in six, a return to Robina Station Reserve welcoming Logan Lightning next Saturday the 28th with kick off at 5pm.
National Premier Leagues Women, Rd 11
Saturday, April 21, 2018
John Fredericks Sportsfields, Capalaba
Capalaba                            1  (Latham 81')
Gold Coast United              6    (Akins 36', McElligott 66' 78' 89' 90'+,  Suero 75')