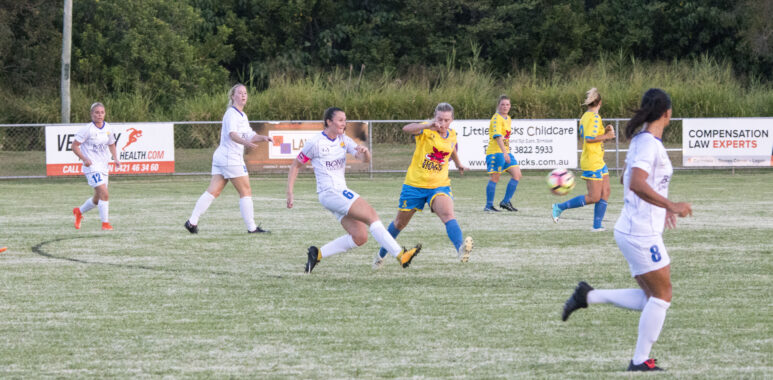 Neesa Doyle in action against Capalaba in pre-season (photo Paul Bloomfield)
United head to John Fredericks Sportsfields to face Capalaba tonight keen to regain that winning feeling.
The match marks the 5th consecutive game on the road for the ladies, a tough stretch that's included games against 3 higher ranked sides. But that's not the case tonight, Gold Coast & the hosts share the same number of points and a win for either would see them rise above mid-table and within striking distance of the lead pack.
After a Rd10 loss to front-runners Souths, the focus this week for Michael Cook in training has been about 'lifting the squad' for tonight' game. The two sides met in pre-season but Cook is always reluctant to read too much in to those matches.
"We have the character in the side to bounce back strongly this week.
"They're a good young side and have had some decent results but if we play to our strengths, we've got the ability to go there and get a result."
Sentiments shared by Captain Neesa Doyle, when she reflected on last week's loss to Souths.
"It wasn't a good team performance from us. Passes just weren't clicking a lot of the time."
For some of the United's side it was their first visit to the artificial grass at Wakerley Park, and adjusting to the surface takes time.
"The articial field gives then an advantage, it's their home and they know how to play on it.
"Every attacking play for us the ball would just travel, and travel too long or fast."
United will again look towards Meg McElligott to cause some damage up front. The striker was well contained by Souths last week but hopes to get more opportunities against the Doggies.
"I knew Souths would be tough, they marked me well.
"We struggled with holding possession and they have some strong players which made it difficult to string together some plays to move the ball forward."
McElligott is confident that United will be improve their possession stats and create more space and opportunities for their attacking players,against a 'well-drilled' and enthusiastic Capalaba tonight. Kick-off is at 7pm.