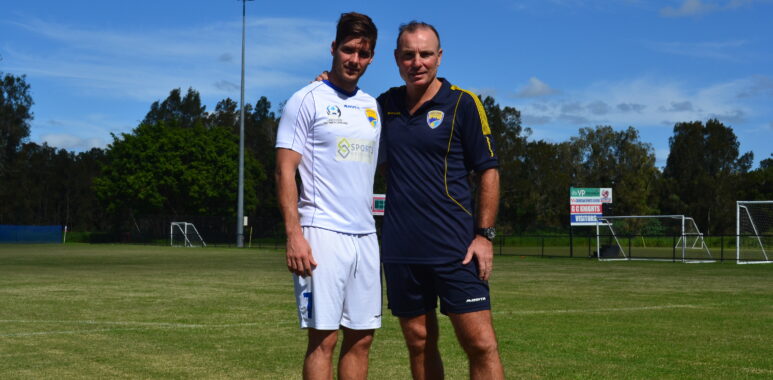 League focus United's priority
Gold Coast United Captain Acim Tomic with Head Coach Sean Lane
United's head Coach Sean Lane has his charges firmly focused on Saturday night's away trip to Wolter Park to face Moreton Bay.
The building hype around next Tuesday's Rd5 FFA Cup clash has been pushed aside by Lane, as his side seeks to break a two game NPL losing streak against the Jets.
"As far as the players are concerned they can't look past Saturday night.
"Once that's done & gone, there'll be massive focus on Tuesday night and making sure we prepare properly for that too."
Moreton Bay sit sixth and a win could elevate them into the top four. But the Coast's best form has come against stronger opposition, the first side to take a point from league frontrunners Olympic FC and being denied a point late against third placed Lions FC, by a 90th minute winner from the hosts last weekend.
Lane knows that United can match it with any side on their day.
"We've certainly got the ability. We're young, very very fit, very enthusiastic & hungry.
Give me those sort of qualities any day and we'll be fine."
Captain Acim Tomic shares Lane's views.
"The league is important for us, to get the three points. You never look beyond the next game. That's our first priority."
With several players returning from injury United's stocks are rising. Defenders Tyler Wagstaffe and Curtis Stollery recently made successful returns to the squad and Uryu Nagata is likely to also return after a leg strain ruled him out late against Lions.
United's attacking depth will also be strengthened with Lochie Reus available after serving a one match suspension which saw him miss the Lions game.
Wagstaffe believes that the key to success this weekend is better game management, something echoed by Lane after the late loss to Lions in round 10.
"We're creating the chances and started to put them away."
"We've just got to read the game and learn when to lock up shop."
"It's always a good thing to measure up against the top teams to see where you're at. We're really not far off winning these games."
The Rd11 match kicks off at 7pm at Wolter Park