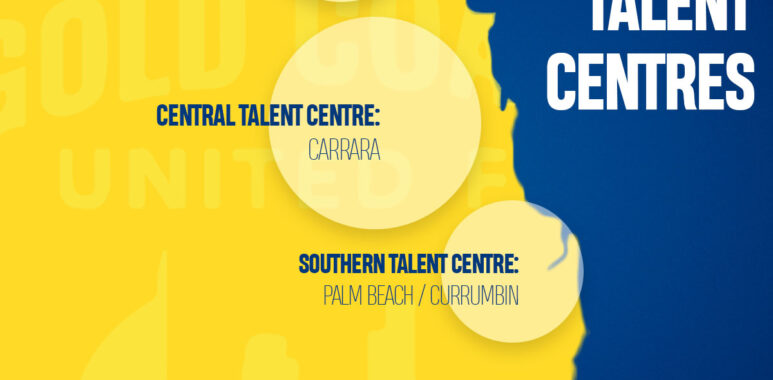 United Unveil More Talent Centres
Gold Coast United are extremely excited to announce the extension of its Talent Centre Program which provides advanced training groups where young players can be mentored by the best coaches, training in the best environment while continuing to play with their friends at their local club.
The NPL Academy Talent Centres are headed by Jamie Dixon with the support of a host of highly credentialled, enthusiastic coaches including newest GCU 'recruit', Alex Morrison, who partners Dixon to extend the program offering.
For Technical Director Craig Midgley having coaches of the calibre of Dixon and Morrison involved bodes well for a highly successful program.
"I regard Jamie as one of if not the best coaches working with 7-12 year olds in Australia. We are lucky to have him on board !
"Alex Morrison's knowledge of the football landscape on the Coast is second to none.
"Their combined experience and enthusiasm, supported by an exceptional group of the Club's other SAP coaches, will ensure a program of first-rate quality for the Coast's budding football stars."
Dixon has hit the ground running since joining the Club, establishing the first of four Talent Centres that runs in conjunction with United's SAP Academy out of the Alabaster fields in Carrara. Staying true to his commitment to implement a range of programs to grow the game at the grassroots, Dixon has expanded the Talent Centre offerings to allow more 7 to 12 year old players the chance to access the program.
"The central Talent Centre is up and operational with around 60 young players benefiting from an additional weekly training session under the program.
"Significant progress has also been made establishing further Talent Centres across the Coast – one in the North and the other in the South. Discussions are also underway to develop a similar offering in the Northern Rivers."
Dixon has also been active in extending the opportunities available for GCU Partner Clubs to benefit from their association with United with mid-week games scheduled and plans for a series of upcoming Carnivals well advanced.
"The dates for trials for the Club's Northern & Southern Talent Centres are about to be released, but I can confirm that the Southern Centre will be operating out of Palm Beach Currumbin High starting School Term 3."
"Plans are also well underway for several Carnivals which will provide opportunities for our Talent Centre players as well as Partner Clubs and Schools to participate.
Continuing the Club's philosophy of offering a range of offerings to benefit young players across the region, United continues to work on ways of developing programs which provide young footballers opportunities to improve themselves in a fun, friendly but professional environment.
"United are here to help local Clubs too, by mentoring coaches and offering them support and guidance to further their football development, which ultimately benefits all young players too." Dixon concluded
Follow this link for more information about the Talent Centre Program.
If you are interested in finding out more about the program contact Jamie Dixon jamied@goldcoastunitedfc.com.au