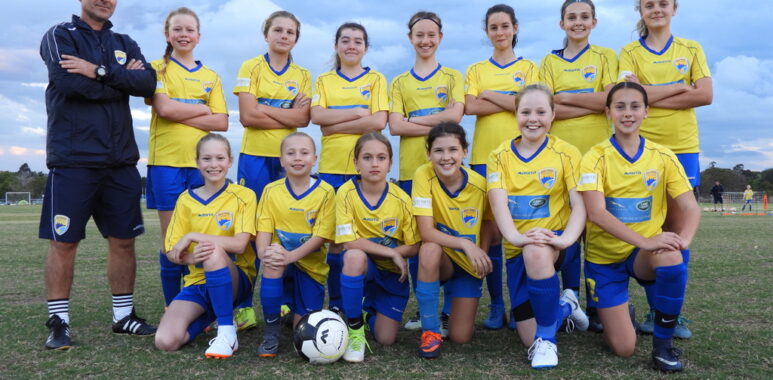 United's Female Program kicking goals too!
United U12 Girls with coach Joe Repic, winners of the 2018 Football Queensland SAP Cup
Like their male counterparts Gold Coast United's female footballers enjoyed much success in the Club's inaugural season.
Among the highlights was the U15 Girls league win and U12 Football Queensland SAP Cup success. Players across the club excelled with the girls at the youngest age groups starring. Both the U9/10's, 'Jared's Angels', and the  U11/12 Girls remaining undefeated in their SAP seasons.
Such success draws recognition and opportunities for stand-out players to progress. The club farewells some of our best young talent from 2018 with a swag of players moving on to further their football.
We wish the following young ladies every success.
Five girls from the U13's and Ú15s have been selected into the new Football Queensland full time Queensland Academy of Sport program for 2019 – Mia Hurley, Claudia Tisler, Lilly Rae, Maya Foster, Daisy Lovesun. Several other players remain on the radar pending injury assessments. Congratulations girls!
One player from GCU Women's team has been selected into the Brisbane Roar NTC U17 squad – well in Lua Suero!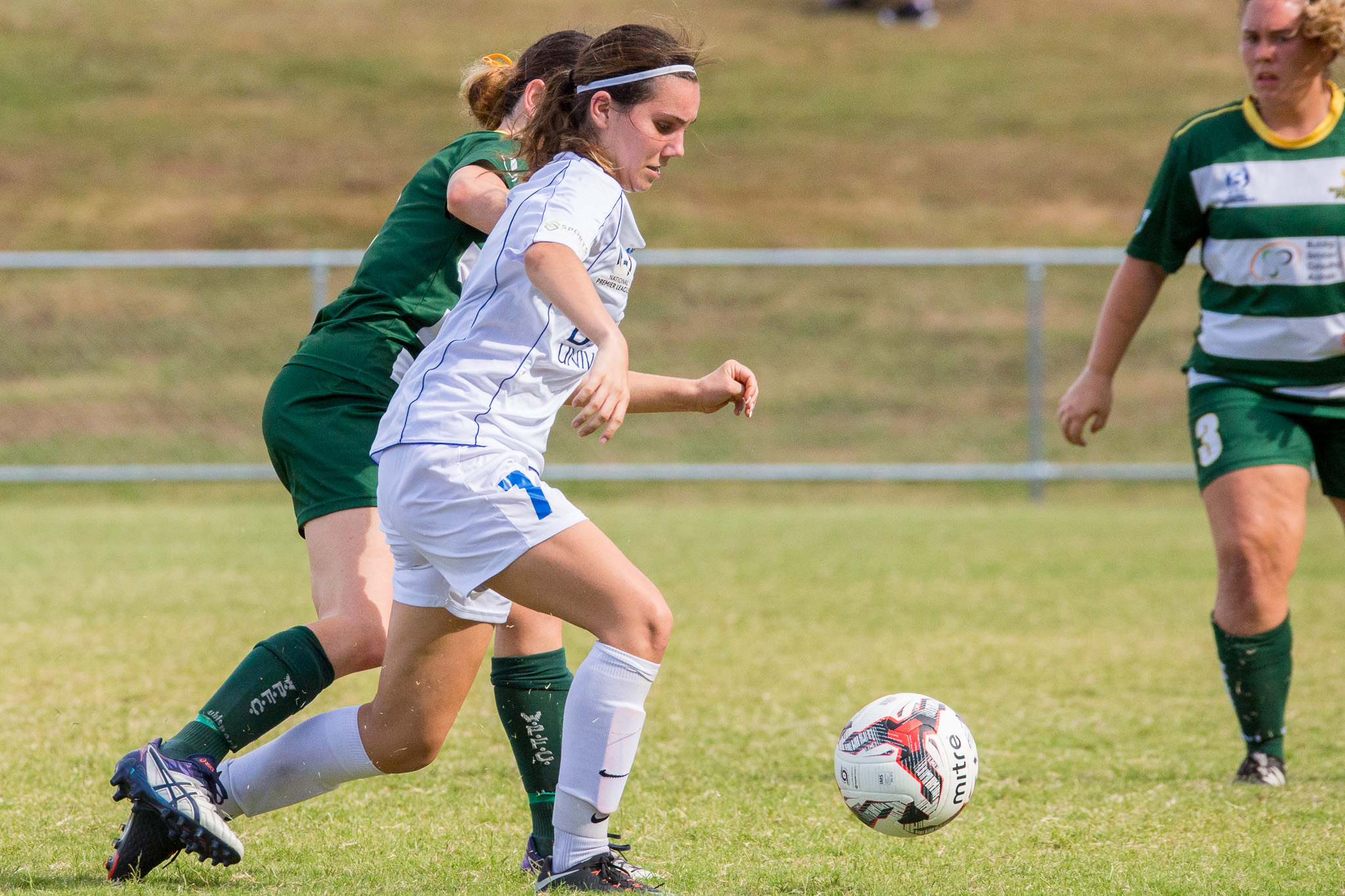 Lua Suero in action v Western Pride (Chris Simpson)
Two out of four GCU Women who trialed with Canberra United have secured places and the other two have been invited back to trial in 2019 – Meg McElligott made her W-League debut recently. Cassie Zaffina is Canberra's third choice keeper & Georgia Elliston and Deeanna Thompson will be out to impress in 2019 to secure another crack at the W-League
Head Coach of the Women's squad Michael Cook, and the 2019 U15 Girls Coach, is someone who knows the amount of work and commitment it takes to make it to the top of the Women's game and praises the efforts of the senior women who have taken the step up. He also knows how crucial it is for the younger girls in the Club to see our senior players succeeding and being great mentors for the club's junior girls.
"The Club is extremely fortunate to have had such a great bunch of senior Women in 2018. Not only are these ladies exceptionally good footballers but they are great people too, willing to pitch in unselfishly and give of their time to encourage and support all of our younger girls."
"And the crew of new players recruited to the club will be no different. Our senior players have set the tone for a culture of support across our female football ranks and are keen to continue to work together to foster that."
On the playing front GCU's Women enjoyed a barnstorming back half of 2018. As a brand-new squad it took a while for combinations to develop and for players to find their place. For Cook it's hard to single out individuals for praise because everyone played their part, but it's hard for even him not to acknowledge those women who attended W-League trials with Canberra United for some due recognition.
"Meg McElligott proved in 2018 that she is a cut above WNPL.
"She's always shown great talent at the NPL Level, now's her time to shine on the next stage. More hard work, determination and focus will be needed to break into the W-League and establish herself as a regular player."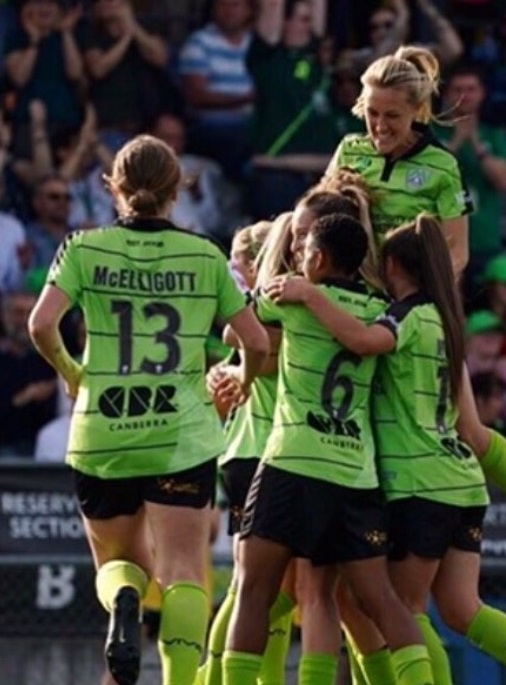 Meaghan McElligott now with Canberra United W-League
"Cassie came to United from South Melbourne looking to reinvigorate her career, she applied herself really well and has reaped the benefits of that."
"And both Georgia and Dee are tremendous talents, powerful runners with the ball and super-dangerous in the box.
"They'll both have benefited enormously from their time in Canberra and will start pre-season with a renewed belief and heightened fitness, keen to build on their 2018 seasons and grab another chance to impress at W-League trials."
So the stage is set to raise the bar across the Club and with Cook steering United's female endeavor the prospects look promising for an even better season in 2019.