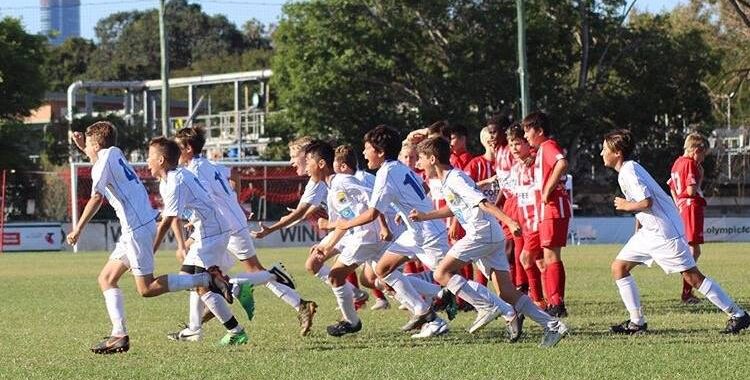 United's Academies a 'Roar'ing Success
United U12 Boys celebrate their penalty shoot-out win to claim the SAP Cup
Preparations are well underway for 2019 for Gold Coast United with trials all but done, the bulk of the coaching staff announced and much activity behind the scenes to have all in place for pre-season training that starts later this month ahead of an official season start penned in for early February next year.
After a successful debut season in both the National Premier Leagues Queensland & Skills Acquisition Program competitions, the Club has attracted a swathe of exciting new talent to its 2019 ranks.
On the boy's side that success included three NPL squads – the U13, U14 & U15's – claiming the league title; a win for the U12 Boys in the SAP Cup and the highest representation of any NPL club of players selected in Football Queensland's State Metro teams that competed at the National Youth Championships in Coffs Harbour.
As a consequence of that success the Club bids adieu to some of our most promising young talent who are moving on to further their football journeys. While the Club will certainly miss those players, it is something to be celebrated and a strong affirmation that the football program and coaching staff have gone over and beyond in providing the best possible opportunity to these players to reach their full potential.
Technical Director Craig Midgley farewells these players knowing that the programs in place are sound and that the coaching intitiatives are working.
"We've been very fortunate to have these players in our midst and we wish them all the best as they move on.
"All of the Club's coaching staff should be justly proud of the fact that we have been a part of their development to date."
"Our role is to guide, nurture and develop young players and pass them on through our system to the next."
"And these players should also feel proud, they performed outstandingly for Gold Coast United in season 2018 and they put themselves in the position to be noticed and to progress."
We wish the following players every success in 2019 and beyond.
the four SAP U12 boys selected into the Brisbane Roars U13s squad of 20 players for 2019 (the most from any NPL club), are Tate Baldwin, Ziv Robinstein, Toby Shapland and Aru Onozuka
two players from the 2018 U15's squad have been signed into the Brisbane Roar Academy after an amazing season. Congratulations Eli Hughes and Josh Dimarco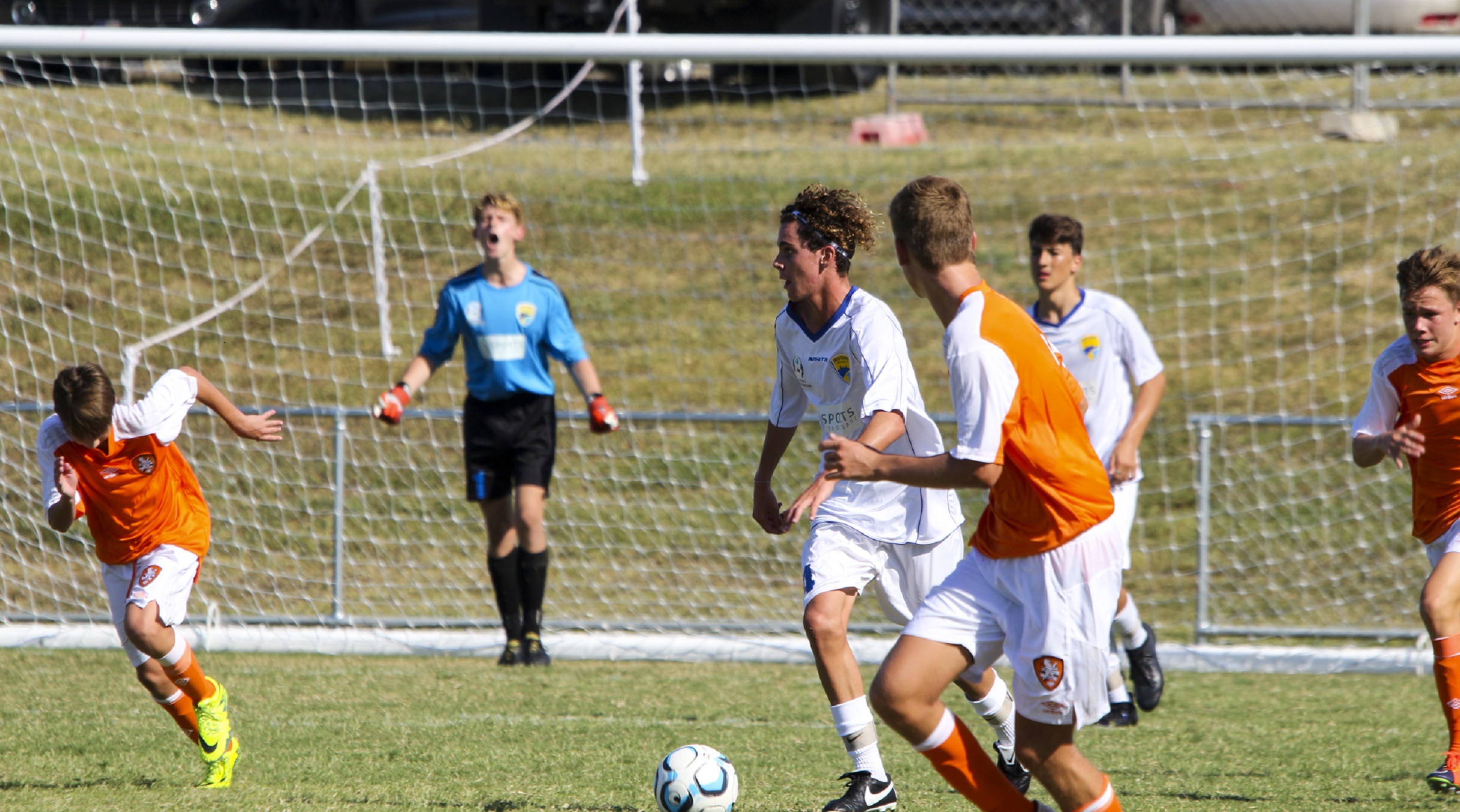 Elijah Hughes in action for Gold Coast United against Brisbane Roar
Hopefully these lads grab their chance to shine and one person who believes they are well placed to do that is Drew Sherman, the Academy Director at Brisbane Roar.
"The Gold Coast continues to be an outstanding region for talented young players, this year's U13;s intake sees 5 more boys join Brisbane Roar Academy from the Gold Coast, 4 of whom are from GCU.
"United's coaching staff, such as former Roar coach Jamie Dixon, have an invaluable insight into what Brisbane Roar look for in young players."
"We look forward to GCU continuing to be a leading program for children on the Coast when it comes to providing opportunities for talented youngsters to move into the Academy here at the Roar."
With plans in place to raise the GCU bar higher in 2019 and a distinctive hum around the place, there'll be every opportunity for other young Gold Coast players to step up and bring their best too.
The stage is being set, negotiations are well progressed to bed down Coplicks as the Club's first rate training facility and a place to call home and with some top notch additions to the Club's coaching ranks, 2019 looms as a very big year for the club.