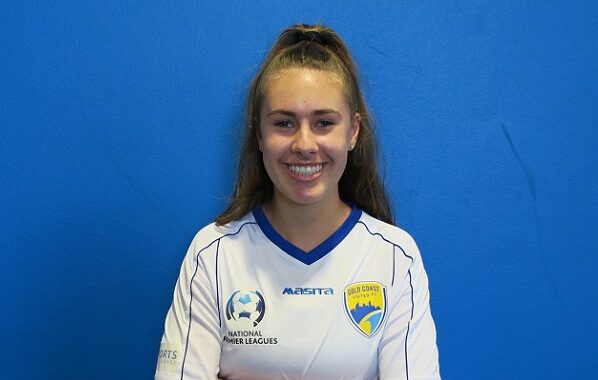 Hodgkinson Links with United
New signing Bronti Hodgkinson
Gold Coast teenager Bronti Hodgkinson (16) is the latest to sign with the NPLW Women's squad, rekindling an association with the club that goes back to the Gold Coast United A-League days.
The year 11 student at Emmanuel College returns to play her football on the Coast after spending several years playing within the QAS / Roar NTC system including being a part of Brisbane Roar's 2018 NPLW championship winning side.
The uber-talented defensive mid-fielder has been a soccer standout for several years representing Queensland at the FFA National Youth Championships as well as playing at The National NTC Challenge at the AIS in Canberra in 2017 and 2018.
On top of her football exploits, Bronti has also competed at the Nationals in athletics in the hammer throw, proof of her athletic versatility, strength and commitment.
The opportunity to link with Gold Coast United is an exciting prospect for Bronti, her father Brett had a strong association with the Club during the A-League era. Hodgie senior was the Club's Logistics Manager, the go-to, can-do man for the United players, and a young Bronti was his 'offsider' spending a lot of time in and around football.
A young Bronti Hodgkinson walking out on to Skilled Park with Jason Culina & Gold Coast United in 2010
"This was one of my fondest memories, I was 8 years old walking out on to Cbus stadium with the Gold Coast United players for the Brisbane Roar clash in 2010," Bronti recalls.
And yesterday in the shadows of Cbus Stadium, Bronti was welcomed to the Club by one of those players, Michael Thwaite, with Hodgie senior close by casting a discerning eye over proceedings like back in the day.
For Thwaite the opportunity to be at Bronti's signing for the club was a special one.
"I've  known Hodgie since he first picked my family and I up at the airport back in 2009 when GCU first started."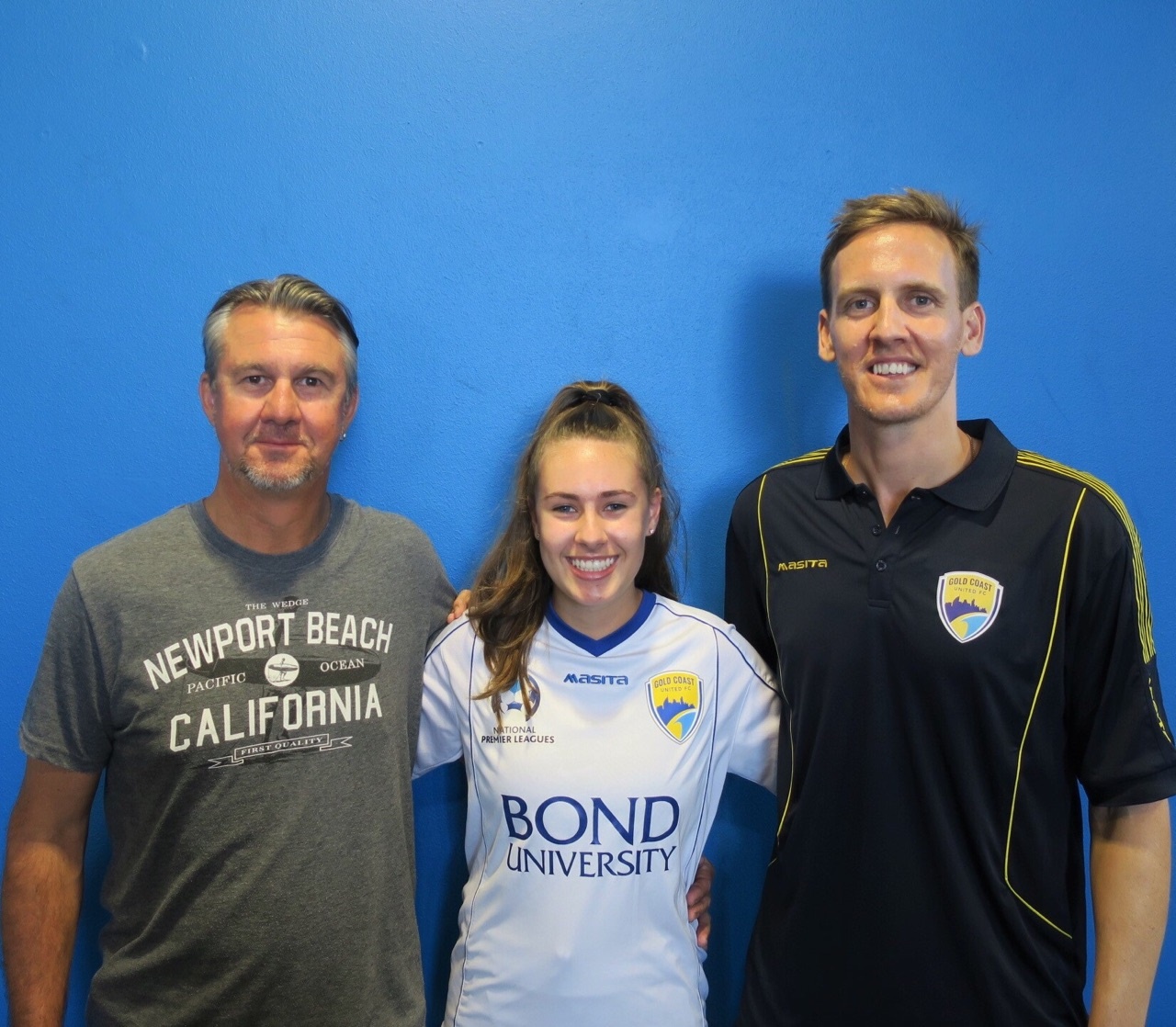 'Hodgie',  Bronti and Michael Thwaite at Bond University at yesterday's signing
"Since then we've remained good friends and I know he is well respected in the football community."
"Bronti helped us within our team environment filling up water bottles and collecting balls so she has certainly done her apprenticeship."
"She's always had the talent and now it's her time to shine as part of our fantastic women's team here at Gold Coast United."
One person who has little doubt about Bronti's talent is Women's head coach Michael Cook.
"Bronti is a young player who's ability and potential I have been aware of for a few years now.
"She's had a great football education and she comes to us at a time when she is ready to be an important player in senior women's football."
" Great technically with the ability to keep the ball in small areas, she will help us control possession in the middle of the field.
"I am very pleased to add Bronti to the squad. She brings good balance to what is shaping up to be a very strong playing group."
As for Bronti herself she can't wait to get underway.
"I am very excited for the season and have loved how welcome I have been made to feel by the team and GCU staff."
"I hope to really enjoy my football here and to keep improving and developing as a player and to learn from Michael and the girls."
"My long term goals are to hopefully go to America after year 12 to study and play football and in the future I would love to play professionally."
With some fantastic mentors keeping a watchful eye out, both from within the Women's squad and across the Club, Bronti's in the right place to pursue her goals.
Welcome back to United Bronti!