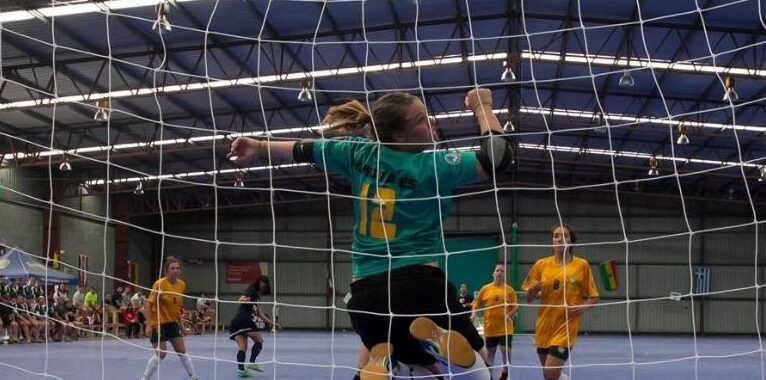 Hargreaves to don United gloves
Goalkeeper Britt Hargreaves is the latest to sign for season 2019 (Damian Briggs Photography)
With his attentions turned to defence Michael Cook has signed shop-stopper Britt Hargreaves to marshal the 18 yard box for Gold Coast United's NPLW squad in 2019.
Hargreaves (25), an international futsal representative, is currently ranked in the top two futsal goalkeepers in the country but is no stranger to the outdoor game with 19 years experience on the grass. Born in Port Macquarie, Britt is another recent recruit with a strong link to the Northern Rivers having played for both the Goonellabah Hornets and Lismore Thistles before relocating further south and keeping for clubs in and around the Mid North Coast.
At United's recent trials Hargreaves made an immediate impact.
According to Cook, "it was apparent on the first day of trials that Britt is a great keeper."
"She has a very commanding presence which is a vital foundation for the spine of the team."
"Growing up playing a lot of futsal and having reached the highest levels of the indoor game, she is technically great with her feet and this will suit the way we want to play perfectly."
"Britt's also a naturally great shot stopper and I am excited that we now have stronger depth in this vital position."

Goalkeeper Britt Hargreaves
Hargreaves doesn't know a huge amount about the Women's squad although she has an association with a few players through futsal, including Keea Parrish, a team mate in the FFNSW squad and at Gold Coast United.
"A few of the girls I played football with at Uni said they had trials on for GCU and that I should have a go at trialing. I thought it would be a good challenge and opportunity and here I am."
"To be honest I'm not from the area so I only know a few of the girls through other competitions.
"It seems like a great bunch of girls though, with a great coaching and support staff and most importantly everyone seems to be on the same page and passionate about the club and football."
Excited by the opportunity to work with United's experienced goalkeeping coach Fernando vas Alves, Hargreaves' first focus is a futsal trip to New Zealand with Parrish for the Auckland Cup, another destination to add to an impressive list of countries visited as part of her futsal journey.
Britt has been an Australian futsal representative since 2007 and at age 14 was selected in an under 19's team to tour Brazil. Among her futsal highlights was playing at the 2016 Women's Futsal World Cup in Spain.
Upon her return from New Zealand it will be time for Britt to focus on United's pre-season with the Women set to put in the hard yards in November in preparation for the National Premier Leagues Queensland Women's competition set to kick-off in February.