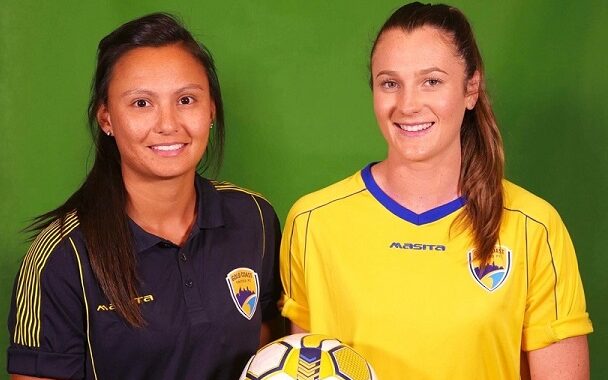 Experienced Defenders Commit
Joy Forsyth & Neesa Doyle commit to the Club for 2019
With his attacking stocks recently boosted ,Gold Coast United Women's Coach, Michael Cook, has turned to experienced locals Joy Forsyth and Neesa Doyle to add some starch defensively. The experienced duo have re-committed to the Club for season 2019, both ladies keen to be a part of the Women's push for bigger things next season.
Doyle, the 2018 female club captain, is delighted to continue her association with the Club's female football program.
"I'm extremely proud and love being a leader and role model at the club, especially being respected and being able to help the phenomenal young female talent coming through the United system."
"Representing Gold Coast United in its inaugural NPLW season was fantastic and I'm looking forward to building on last season by personally improving and being a part of improving the team as a whole.
"Even though I am a player, I am a proud United fan and supporter too!"
A product of Maclean in Northern New South Wales, Neesa moved to the Coast in 2015. The 23 year old centre-back featured in all 26 games in United's 2018 season, one of only two women to achieve that feat. She also lead the team to success in the inaugural Faye Rodd Cup, the Club's first piece of NPL silverware. Neesa's robust defending and her ability to make deep runs forward were crucial in the Women's surge up the ladder in the second half of season 2018.
For Cook having Doyle back on board is really pleasing.
"It's great news to have re-signed Neesa for the 2019 season."
"Being ever present during the 2018 season, Neesa is a great character and we always know she will work tirelessly for the good of the team.
"A willingness to always learn and improve makes Neesa a player we can rely on being important for the club for years to come.
"The support she lends to the younger girls at the club makes her an inspiration off the field as well as on."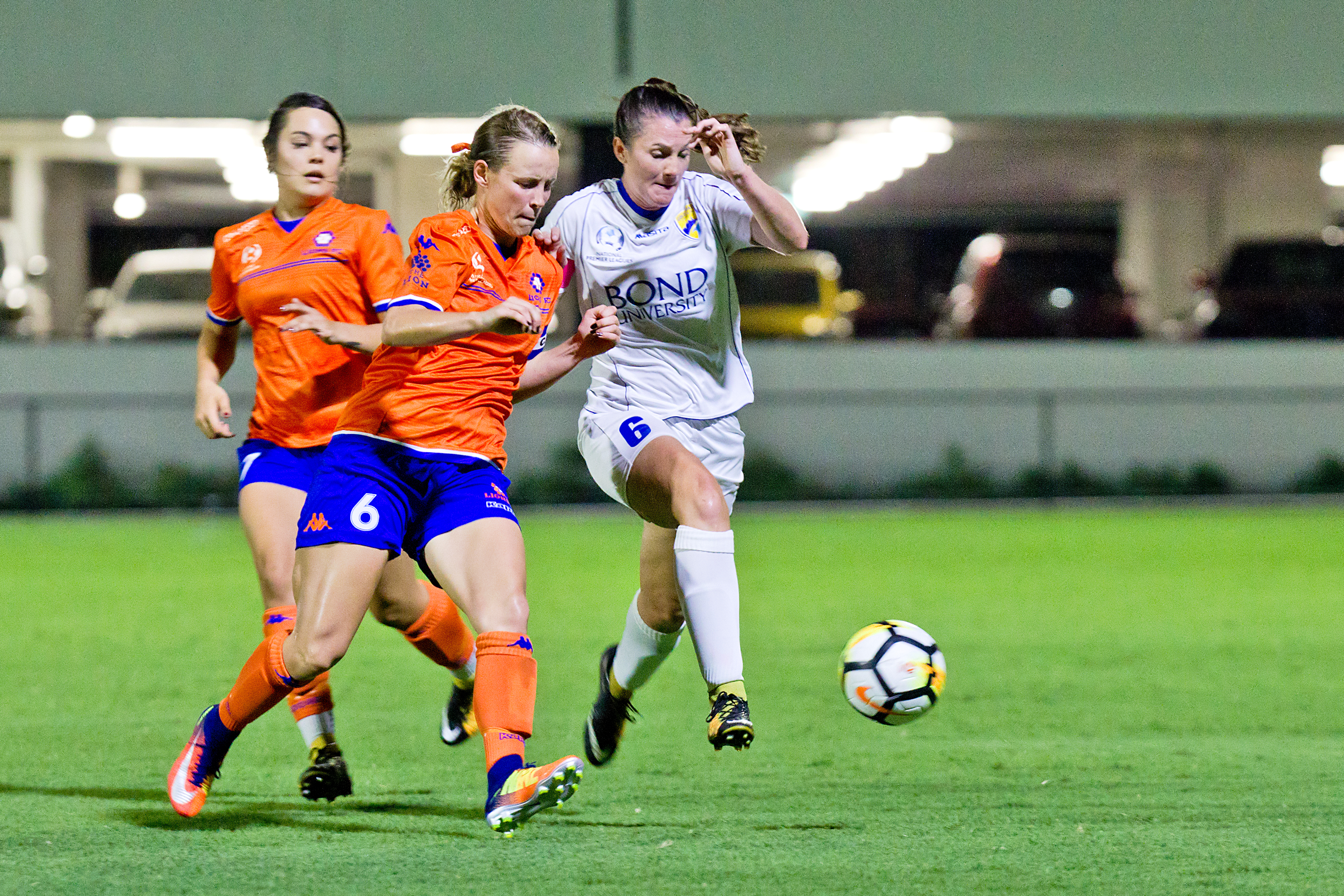 Neesa Doyle v Lions FC in 2018 (Rob Scanlon / Lions FC)
Doyle has played alongside fellow defender Joy Forsyth for past three years in the National Premier Leagues Women's competition and is excited to continue that association.The two combine well together in the back line on field and are good friends away from the game.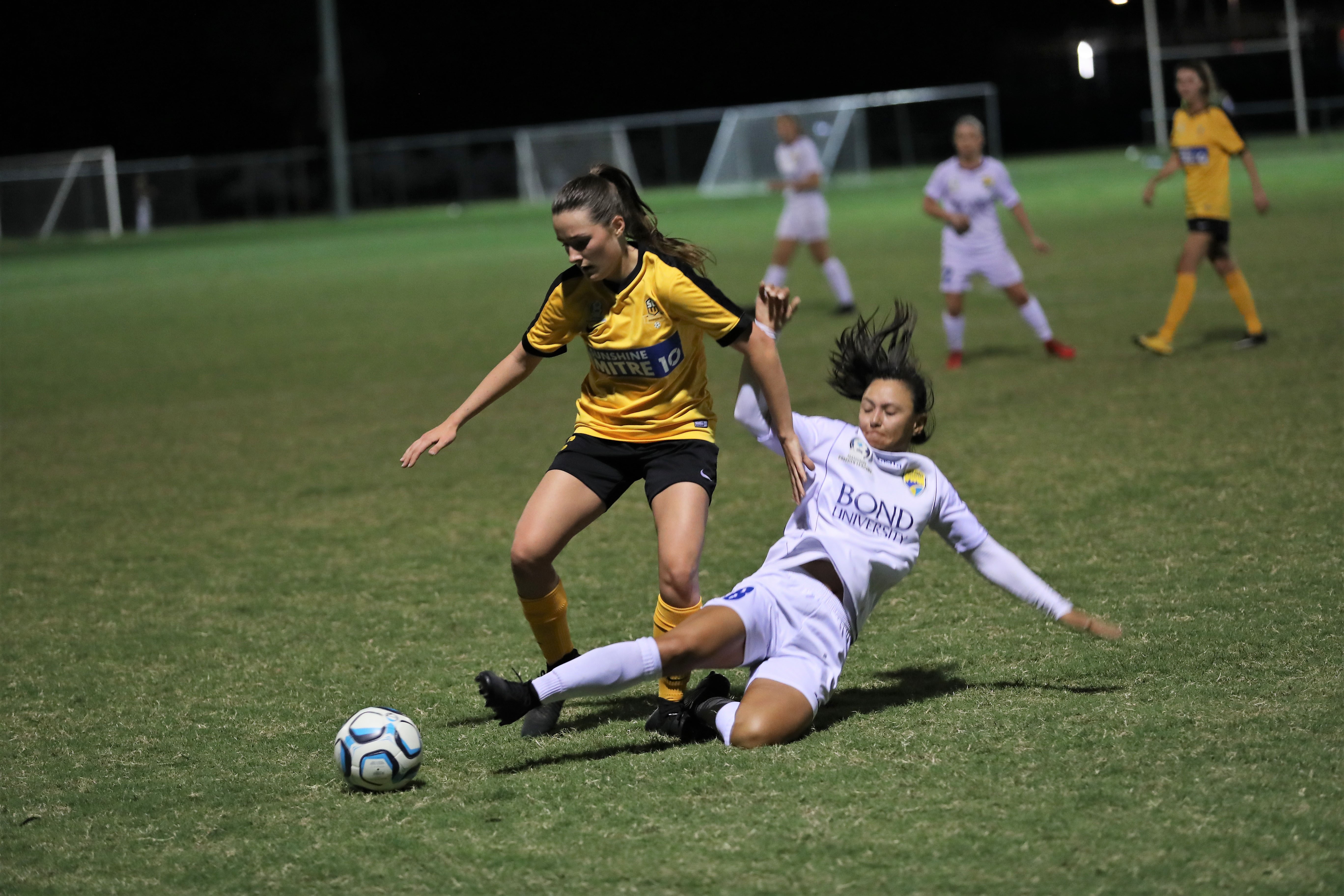 Joy Forsyth in action against Sunshine Coast Wanderers  in 2018 (Craig Clifford / Sportspics)
Joy Forsyth brings a no-nonsense, aggressive approach to the squad. An attacking-minded wide defender, Joy likes to get forward from deep and can pick a telling pass to set attacks in motion. Featuring in all but one of the Women's 2018 fixtures, Forsyth, like Doyle, has notched up 60 NPLW appearances.over the past three seasons.
Michael Cook is a big fan of Forsyth.
"She was consistently one of our best players throughout 2018 and her experience will make her invaluable once again for the upcoming season."
"Joy's a great all round player, a terrific ball winner in defence with an ability to start attacks with a good range of passing.
"She's a player I trust to do whatever job is asked of her, always putting the team first.
"Her attitude is a great lesson for the younger players in the squad who should all be looking to learn from her."
"I'm very happy to be working with Joy again for the upcoming season, she gives us a great foundation at the back."
The 29 year old Gold 'Coaster' is keen to get pre-season underway.
"The trials have looked really promising and hopefully we can build on last seasons 6th place finish."
"I'm really looking forward to starting pre-season with some new and familiar faces.
"And I'm really excited for next season. The club culture is something I couldn't miss out on being a part of."
With trials completed, there's a small break for the United squad before hitting the park in November to prepare for the rigors of what promises to be an exciting season for Gold Coast's premier women's squad in next year's National Premier Leagues Women's competition.