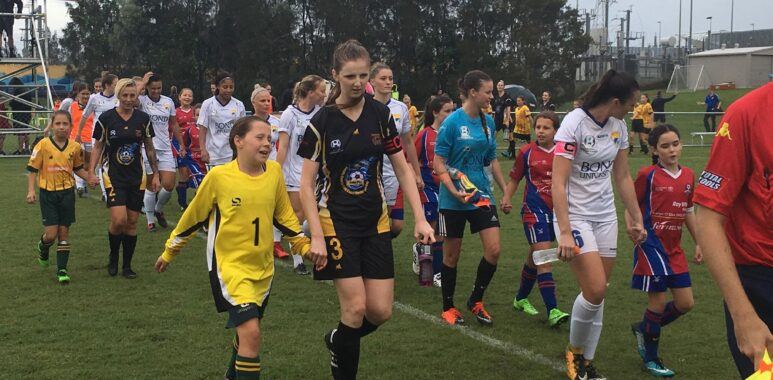 Football plan developing well
Players from GCU Affiliate Clubs, Robina & Canungra, joined the Gold Coast United & Mudgeeraba teams in a 'walk-on' as part of Female Football Week
Wow, what a weekend for Gold Coast United.
A big thanks to the visiting clubs, players, parents and supporters. And a heartfelt thank you to all the GCU volunteers, coaches and parents for the time and effort put in across the weekend.
Football wise some awesome results – 20 games – 18 wins – 2 draws.
A massive 98 goals for and 23 against – just under an average of 5 goals per game scored and only just over an average of 1 goal per game conceded
Inspite of the showers the field condition was excellent for football with everyone enjoying playing in the conditions. Club officials monitored the field situation at every interval and were in constant communication with the referees who were comfortable the field was safe to play at all times.
While the results were outstanding what was more pleasing was seeing the ground packed with players starting to realise their potentials and reaping the rewards of their hard work in training.
Such results are testament to the coaching staff and the Football Plan being developed and delivered by the Club's Technical Director, Craig Midgley, whose philosophy is beginning to show.
That Football philosophy centres around:-
– a high level of Coach education
– an aggressive attacking playing style
– instilling a winning mentality
– training intensity equals match day intensity
– player centred learning
– analysis and detailed review of individual and team performances via Hudl
And this is just the start of the GCU journey as all Coaches, players and parents begin to 'buy into' the program.
The focus for players this week is to continue to be humble, train hard and prepare well.
And for parents, maintain your commitment, encourage your players and believe in the Football Plan which all GCU coaches are working hard to deliver.
United & Proud