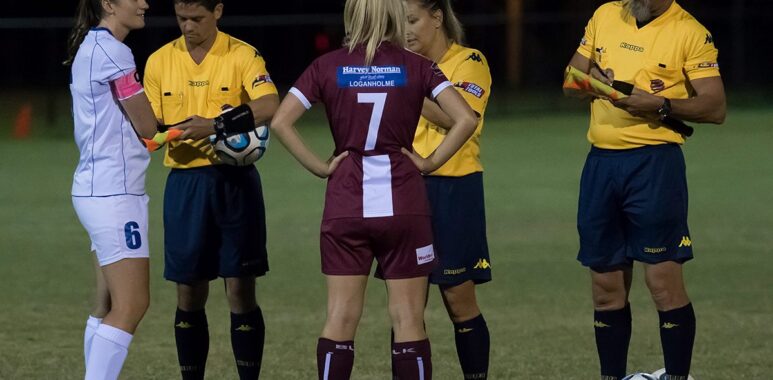 Captain Neesa Doyle prior to kick-off v Logan Lightning in Rd12  (David Wilson photography)
After a week off, United are primed for a strong performance in front of a home crowd on Saturday against the Sunshine Coast Wanderers.
With extra time to prepare for Saturday's game, the Women's squad nears full strength with both Dee Thompson and Georgia Elliston expected to feature. Mackenzie Akins remains doubtful after suffering an ankle injury against Logan Lightning last start.
No Anjel Brown though who has left the Club to pursue other football opportunities.
Head Coach Michael Cook is sad to see the versatile Brown go but knows that her positive influence, both on-field and off, will live long among his squad.
"On the field she contributed a great deal during her time here, always playing and training at the highest level.
"Off the field Anjel also contributed greatly, helping create a culture of excellence by sharing her experience with her team mates. I'm sure that her positive influence will be felt for a long time to come."
Cook however remains upbeat about his squad's potential moving forward on the back of strong recent performances and the return of key contributors.
Captain Neesa Doyle is also confident that the squad can push past Brown's departure and focus on their goals and this week's match.
"Anjel was a role model and leader of the team but we need to put her leaving behind us and move on with climbing up the ladder.
"Sunshine Coast this weekend is a good opportunity for us to get three needed points."
While optimistic of a strong showing on Saturday, Doyle is also wary of under-estimating the Wanderers, recognising that all Clubs in the league can string strong performances together and trouble any opponent.
"As we discovered last start against Logan Lightning, no team can be taken lightly."
The Wanderers have won two of their 10 matches so far in season 2018, those two wins coming in their last 5 games. They've also scored 14 goals in those 5 games, with their top scorer, Samara Christmas, posing the biggest attacking threat.
Kick-off at Robina is at 5pm.