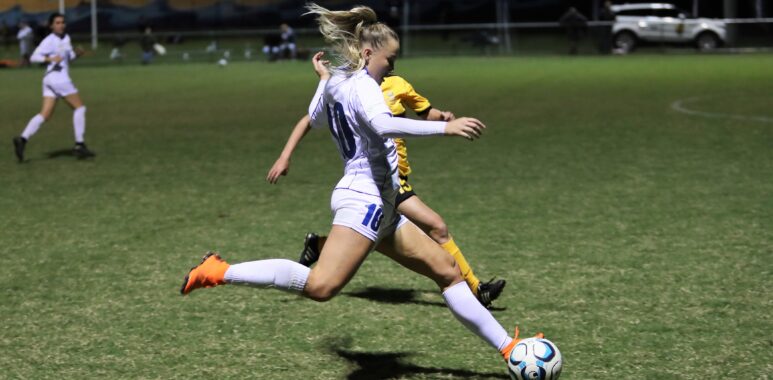 Deeanna Thompson in full flight (Craig Clifford – Sportspics Photography)
A commanding performance from the United Women at home as they accounted for the Sunshine Coast Wanderers 6-2.
Gold Coast started brightly when a strong run and cross from Georgia Elliston found Mackenzie Akins at the back post to open the scoring. Inside the quarter hour United doubled their advantage after Akins slid a ball in behind for the dangerous Deeanna Thompson who slotted home from close range
Three nil to the Surfsiders just after the half hour mark. Teleya Reynolds pressed and won the ball deep, before a pin point pass found its way to Thompson who rolled her defender and released Meg McElligott. Her powerful shot well placed past the diving Peterson near post in the the Wanderers goal.
A landslide looked on the cards but the Wanderers rallied and Samara Christmas bagged a quick fire double in the backend of the half, 3-2 at the break.
United Coach Michael Cook was delighted with his team's performance post game but disappointed that his side briefly 'switched-off' to let the visitors back into the match
"While we were a little careless for a 10 minute period at the end of the first half, it was a very commanding performance from our team tonight."
"We're on a strong run of only one loss in five games now, and confidence is building within the squad."
That confidence showed second half with Thompson and McElligott putting the match out of reach, the attackers adding to their first half strikes to seal the 6-2 win. McElligott finished with a hat trick to take her season tally to 27 (12 matches) and Thompson bagged her first brace of the campaign.
Cook praised United's young keeper for her second half clean sheet.
"Meghan Kealy-Hawkins had one of her best games in goal tonight.
"And the combination of Dee (Thompson) and Meg (McElligott) up top is very exciting for us.
"There's still a lot of key areas for us to improve on though.
"I've really enjoyed working with this great group for the first half of the season, and look forward to a strong second half of the campaign."
The Women welcome Mitchelton to Station Reserve next weekend, out to reverse the 4-3 loss in round 1 away.
National Premier Leagues Women, Rd 13
Saturday, May 12, 2018
Robina Station Reserve
Gold Coast United                     6   (Akins 2', Thompson 14' 50', McElligott 33' 55' 65')
Sunshine Coast Wanderers      2   (Christmas 39' 41')