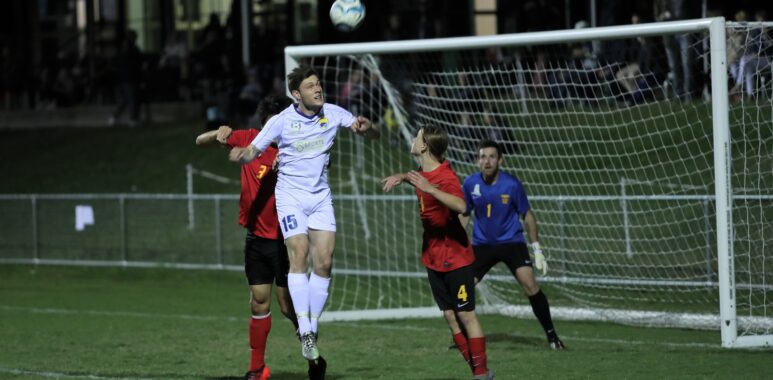 United go back to back against Fire
Brandon Reeves climbs high for United against Sunshine Coast Fire (Craig Clifford @sportspicsphotography)
A near full strength Gold Coast United had too much in the tank for a spirited Sunshine Coast Fire at Robina last night, running out 3-1 winners.
Bolstered by the return of key players from injury and a strong debut from Jayden Prasad, the Surfsiders recorded back to back wins to climb within striking distance of the top of the table.
It was the visitors however that started the better, United's defence getting caught square when the speedy Shoichi was played in behind to score the opening goal.
Gold Coast responded after twenty minutes through Englishman Conor Smith, who produced a sublime strike from distance to level the scores.
While pleased with the end result, United Coach Sean Lane was disappointed with his sides lack of early intensity.
""I thought we were very ordinary for the first twenty minutes, in fact I thought we were very ordinary in the warm-up.
"I think we thought it was going to be an easier game than it was.
"We got caught on the hop the first twenty minutes and made it hard for ourselves."
Locked together 1-1 at half time, Lane's message at the break was to remind his charges of the success they were having when knocking the ball in behind for the pacey Panetta and Prasad.
"We got what we deserved in the first half which was very little.
"But every time we knocked the ball over the top, they were playing so high that we looked dangerous.
"So just continue doing that and that paid dividends in the end."
It was Panetta who scored United's first in the second half when a Brandon Reeves bullet proved too hot for Downes in the Fire goal and the winger was on the spot at the back post to slot home the parry.
With twenty left on the clock Smith add to the host's lead from the penalty spot after Dean Wernerson was clipped from behind in the box. The game all but done at this point, the match finishing 3-1.
Lane liked the fact that his returning players, and new signing JJ Prasad, all got decent time in their legs.
"The biggest thing for us is that we've had probably five lads coming back from injury and they got between 70 and 90 minutes. And they'll all be better for the run and hit out."
Next week United welcome Cairns to the Coast.
"We're confident. We'll train this week and prepare to win. And that's the only thing on our minds.
"They're a decent side, we've beaten them once away and we'll prepare to beat them at home," Lane said.
National Premier Leagues, Rd 13
Sunday, May 12, 2018
Robina Station Reserve
Gold Coast United              3 (Smith 22' 72', Panetta 65')
Sunshine Coast Fire           1 (Koshimizu 4')