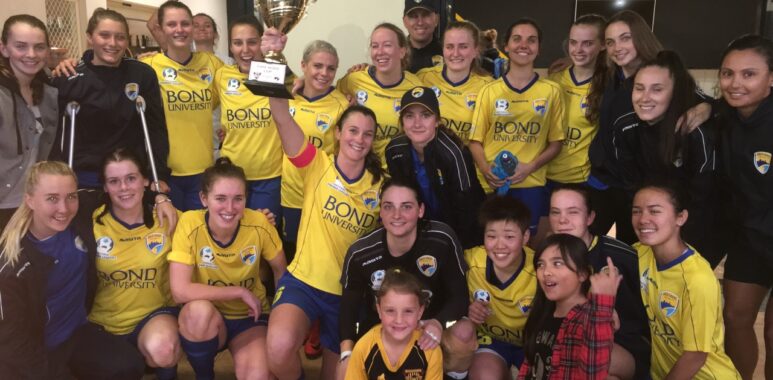 Women celebrate their Faye Rodd Cup win
GCU Women became the Club's first squad to lift silverware after a dominant 5-1 victory over league rivals Mudgeeraba yesterday.
The Faye Rodd Cup acknowledges the lifetime dedicated to the advancement of Women's football on the Gold Coast by Mrs Rodd and yesterday's match was a fitting advertisement for the strength of the women's game on the Coast, both sides stacked with young local talented female footballers who put on an entertaining display on a difficult surface at Sid Bigg Park.
But it was United's foreigners who were responsible for the Coast's 2-0 half time lead. Reiri Ono opened the scoring on debut after a Lua Suero shot was parried into her path by Melissa Horwood in the Mudgee goal. With 20 minutes gone Ono set Mackenzie Akins free when a pinpoint pass split the defence. Akins finished the first of her two goals with aplomb.
A fairytale comeback looked on the cards when Shelby White pulled one back early in the second half but there would be no repeat of the Mudgeeraba heroics from Rd6 with United upping the ante and securing the win with second goals to Ono & Akins putting the game beyond doubt. Phoebe Cave chimed in late on with her first goal for the Club, a well deserved reward for the hard working player.
United's win was their third on the bounce and Coach Michael Cook was just as pleased with this fact as he was with the Club's first silverware.
"I am proud of the players for winning the club's first trophy, it's a credit to such a young team.
"We weren't at our best today, but every player worked hard and that is what got the result in the end.
"If you can be below your best and still win, it shows great character."
Cook singled out new signing Ono for praise post match and looks ahead to the remainder of the 2018 campaign with some confidence.
"Great to see our new signing scoring and fitting into the team right away.
"The immediate future of the team and her place in it is very exciting."
United have a chance to extend their winning streak when they welcome Brisbane Roar to Robina next Saturday.
Young Roar are enjoying a purple patch of form too, seven wins on the trot and one win outside the top four.
Women's National Premier Leagues , Rd 19
Sunday, July 1, 2018
Sid Bigg Park, Mudgeeraba 
Mudgeeraba                            1 (White 55')                                                
Gold Coast United                5 (Ono 10' 76', Akins 21' 69', Cave 93')