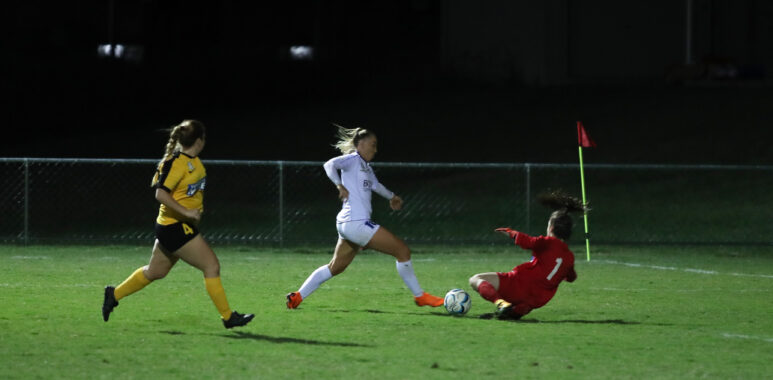 The dangerous Dee Thompson working back towards her best (Craig Clifford – Sportspics Photography)
Gold Coast Women are primed to face Mitchelton tomorrow at Robina.
With a settled starting line-up and on the back of strong recent showings, Michael Cook's squad is looking forward to their second successive home game.
Mitchelton travel down the M1 in desperate need of finding their early season form having lost some momentum recently. After a solid draw against Lions, they've recorded two losses and a win in their last 3 starts.
Deeanna Thompson looks certain to back up for another 90 minutes after being prominent in the Coast's dominant performance last week over the Wanderers.
"I'm glad to finally be back playing with the team and happy to offer an outlet of pace up front.
"I'm still somewhat cautious, there are a couple of niggles holding me back. But If i can put in another strong performance as I did last week I'll be happy."
Deeanna and fellow strike partner Meg McElligott will be looking to work on their combination play up front, a potent force when in full flow. But both women know that Mitchelton will be a tough nut to crack.
According to Thompson, "it will be a tough game for us knowing the result of the previous match.
"However there is good energy in the team and we won't be making the same mistake we did in the first round."
A slow start in that game saw the Women trail 4-0 inside 8 minutes. A Kenzie Akins hat-trick wasn't enough to overhaul Mitchie that night with Thompson's red card late having little bearing on the final result.
With several key players now back from injury and full access to training facilities restored, United are in much better shape going in to this match.
"Yeh the squad is tracking well." Thomson said.
"There are a few niggles but come game day the girls will be ready.
"We've had had a strong look at our game play this week, working on transition and a few other things. The squad is looking forward to get back out there on Sunday."
Kick off at Robina Station Reserve is at 2.30pm