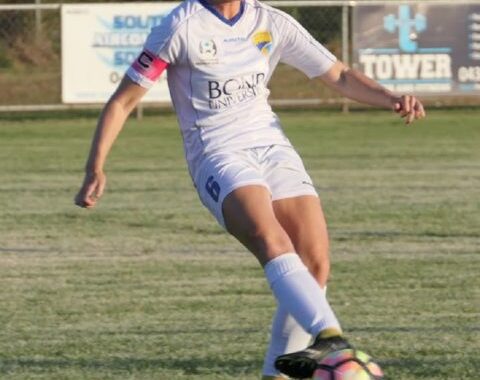 Women struggle to tame Young Roar
Neesa Doyle in action. Photo Helen Anderson
Despite an outstanding defensive display, United fell to Roar in Surfers Paradise last night.
United's Captain, Neesa Doyle, was pleased with her team's performance, especially given the Coast were again without her centre-half partner (& vice-captain) Ellie Fryer and dangerous attacker, Dee Thompson, both ladies sidelined with leg injuries.
Anjel Brown partnered Doyle at the back in the absence of Fryer and the skipper was full of praise for the versatile Californian.
"Anjel had a stellar game tonight, making some crucial tackles to keep us in the contest.
"Her ability to anticipate play & disrupt the opposition is a fantastic asset for us."
After the game Doyle was quick to praise her opponents, "Roar are technically a great side. Their movement off the ball made it quite difficult to defend."
She was quick to praise her side too particularly the defence, something the squad has been working hard on of late.
"Our defence was great; our communication & discipline; the backline stood up well."
Roar led 1-0 at half time, a headed goal from Indiah-Paige Riley from a cross at the top of the eighteen yard box. A second goal from Riley from distance sealed the show for Roar, the game ending 2-0.
While disappointed with the result, Doyle saw plenty of positives on the United side.
"I'm super proud of the work rate from every player. We showed a lot of heart that's for sure, against a brilliant side.
"Our preparation for this game was crucial for us, we studied Roar closely and limited their opportunities to penetrate."
The Roar took the honour of being the first side to hold GCU scoreless in 2018 – no mean feat considering the Coast's strike power.
According to Doyle, "we struggled to keep the ball at times and to finish a couple of clear chances that could have changed the game."
"We'll need to get stuck in this week, work on a few things that we need to improve on."
With NPLW heavyweights The GAP, making the trip South next Saturday, effort and focus at training will be paramount for the GCU Women this week.
National Premier Leagues Women Queensland – Round Seven
Friday, March 16, 2018
Lex Bell Oval, Surfers Paradise
Roar NTC                          2 (Riley)
Gold Coast United           0