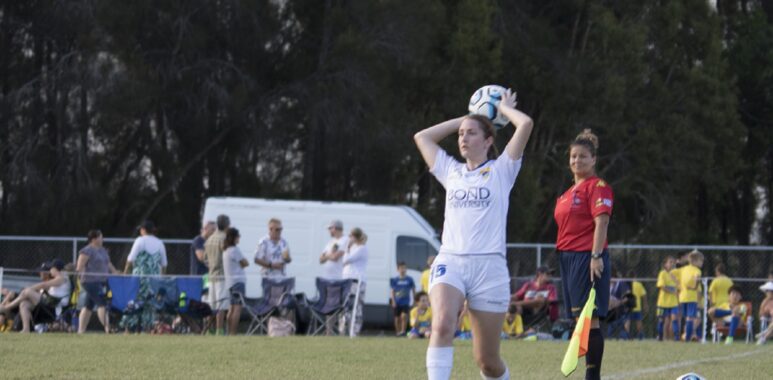 Shrimpton taking her chance
Kimberly Shrimpton in action. Photo Emily Bloomfield
For Robina local, Kimberly Shrimpton, the opportunity to play with a diverse group of women is helping her confidence grow.
The young defender has found a home at left back in Michael Cook's starting team for the Gold Coast United Women's side and is making the most of her chance.
"I'm feeling more confident in myself and have my team mates who have the experience to help me.'
"It's great having a diverse group of women in the team. The older players are influencing the younger players and we bring our games and enthusiasm and combine it."
The 17 year old started football young, playing locally at Robina City and Palm Beach before getting a taste of NPL in in Brisbane with Souths United. She knows what's required at this level and is buoyed by the faith being shown in the younger players, including herself, in the Women's squad.
"The Club believes in us and we believe in our own abilities.
"My Coach, Michael Cook, has been really supportive and he's pushing my mindset more to W-league and thinks I can get there. That's making me believe in my ability and maybe that's on the cards in the future. I've just got to work really hard to get there."
But for now though Shrimpton is focused on playing her part in a developing GCU squad, as well as on her year 12 studies.
"I was really happy when Gold Coast United got an NPL licence for Women. I knew that Year 12 was going to be tough and driving to Brisbane three times a week for training was going to be really hard to fit it in."
Training and playing locally, and growing confidence in herself and among the squad, has Shrimpton sure that good things are on the horizon.
"We're a new squad and we're still learning how each other plays. We've been working on communication a lot.
"Once we pull all we've worked on in training together I think we'll start to really deliver."
That chance arrives tonight at Lex Bell Oval in Surfers when Gold Coast United take on the Roar NTC, a youthful squad of highly skillful players. Kick-off is at 7pm.